The Best Products & Installation... Guaranteed!
An investment in your home is one of the smartest investments that you can make, but you need to ensure that you hire the right team for the job. At 
Blue Springs Siding and Windows
, we treat our clients' homes like they're our own. We purchase and distribute the best 
siding
, 
doors
, and 
windows
 in Lee's Summit and the 
surrounding areas
, and we're confident that you'll be able to tell the difference the moment that you walk into our showroom. As a part of our ongoing commitment to exceptional quality and unparalleled customer service, we provide a lifetime guarantee on all of our products and services.
If you're interested in viewing our replacement windows and home siding options for yourself, come by our showroom in Blue Springs! We're located at 2201 NW Jefferson Street. A helpful member of our staff can help you find a product that fits your needs and doesn't exceed your budget. Read on to learn more about what we can do for your Lee's Summit home!
---
Siding
Home siding is so much more than an aesthetically appealing shell for your home. While your home's siding should reflect your design preferences, high-quality siding protects your home from harsh weather conditions, harmful pests, and provides your home with superior insulation. At Blue Springs Siding and Windows, we believe that your home's siding should be as durable and effective as possible, and we offer a variety of home siding options that will protect your home for years to come.
Vinyl Siding
A popular home siding option since the early 1960s, vinyl siding is a cost-effective way to boost your energy-efficiency and protect your home from the elements for several decades. Most homeowners see a reduction in their heating and cooling bills after outfitting their homes with new vinyl siding. By eliminating the opportunity for hot and conditioned air to escape through small cracks and openings in your walls, you'll likely find that you're using your HVAC system less and less throughout the year.
James Hardie Siding
James Hardie is a premier siding brand that every homeowner should be familiar with. While regular vinyl siding is a fantastic choice for any home, James Hardie siding is the go-to home siding option for homeowners who are looking for the best of the best. In addition to providing your home with superior insulation, other benefits of James Hardie siding include:
Weather Protection: The weather in Missouri can be harsh and unpredictable, but James Hardie siding is built to withstand strong winds, hail, and blizzards.
Fire: James Hardie siding is fireproof and approved for fire-rated construction. Whether you have a grill close to the side of your home or a fire pit on your patio, you can rest assured that James Hardie siding will never go up in flames.
Moisture: Warped and sagging siding is often an indication of water damage, and a mold infestation can cause severe structural damage to a home. James Hardie siding is manufactured with this problem in mind, and every one of our customers has been satisfied with its waterproof seal.
Pests: A pest infestation is one of the most inconvenient problems a homeowner can deal with. James Hardie siding is designed to be termite and pest-resistant, and it's even protected against wildlife such as woodpeckers and squirrels.
Time: You're probably investing in new home siding because your current siding is becoming old, cracked, and faded. James Hardie siding is fade-resistant and will last decades longer than other home siding options.
---
Windows
Windows
If you're looking for replacement windows in Lee's Summit, then you've come to the right place! At Blue Springs Siding and Windows, we have a variety of window options that can take your home from ordinary to extraordinary. Our team of window contractors makes it as easy as possible to outfit your home with the windows you deserve. Read on to learn about the different windows we offer here at Blue Springs Siding and Windows, and stop by our showroom in Blue Springs to view our fantastic selection of replacement windows for yourself!
Bow And Bay Windows
Are you looking for a way to give your home an elegant-yet-classic look? A bow window installation or a bay window installation may be exactly what you're looking for. There's a slight, but important, difference between bow and bay windows. The former is composed of at least three windows that have been joined together at sharp angles, while the latter is composed of at least four windows joined in a smooth and gradual curve. While bow and bay windows can be used to achieve a variety of different effects in a room, you'll find that both of these window options make a room feel significantly more open and welcoming. Whether you're attempting to revamp your dining room with a timeless theme or you're simply looking for a way to fill your home with natural sunlight, bow and bay windows will increase your home's aesthetic appeal and overall resale value.
Double-Hung Windows
Double-hung windows are by far the most popular windows in the United States, and for good reason. The primary selling point for double-hung windows is that they're extraordinarily cost-effective and match virtually every design preference. You can open double-hung windows from either the top or the bottom, and the panes tilt inward for easy cleaning. If you're looking for a way to add even more style and sophistication to your home, you can choose to add a radius top to your double-hung window installation. A radius top is a curved window placed above a set of double-hung windows, providing your home with even more natural light.
Picture Windows
If you're looking for a way to showcase a beautiful view around your home, then a picture window installation is exactly what you need. Unlike other windows which are divided into different sections, picture windows are a singular, unobstructed window pane. The primary purpose of a picture window installation is to frame an area around your home. Perhaps you have a gorgeous backyard that you love to look at each morning, or maybe your home has a great view of the sun setting over Lee's Summit every night. No matter where you're located, a picture window is sure to be a conversation-starter in your home.
---
Casement Windows
If you're looking for replacement windows that are slightly more interesting than double-hung windows, but less extravagant than picture windows, then casement windows may be the perfect solution. Also referred to as "crank windows" because of their crank-operated opening and closing mechanism, casement windows are actually available in two different styles: casement and awning. Casement windows open vertically, while awning windows open horizontally from the top of the frame. Casement windows have the ability to open outwardly and draw fresh air from the outdoors inside, making them perfect for bathrooms, kitchens, and family rooms.
No matter which replacement windows you choose for your home, we're the only window installation company in Lee's Summit who provides our customers with lifetime guarantees. From the products to the labor, we guarantee it all! Stop by our Blue Springs showroom to view all of our windows, or get in touch with us online to request more information about a specific replacement window.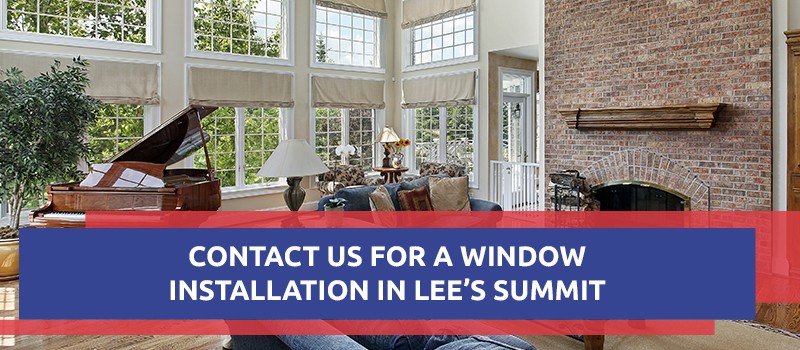 ---
Doors
Blue Springs Siding and Windows is proud to be Lee's Summit's premier resource for door installations. From answering your questions in our showroom to performing the door installation itself, our team handles every step of the process. As part of our continuing commitment to exceptional customer service, we provide a lifetime guarantee on all of our doors and door installation services. Keep reading below to learn more about our door installation options!
Entry Doors
The front of your home makes a statement, and you want it to be one that reflects your tastes and design preferences. A shoddy entry door is a lot like a bad first impression, in the sense that it sets the tone for how guests view the rest of your home. Moreover, a poorly constructed entry door will allow air to escape from your home, raising the costs of your heating and cooling bills significantly.
Blue Springs Siding and Windows proudly carries a wide variety of entry doors that can accommodate any and all aesthetic preferences. We supply our customers with Pro-Via doors, which deliver the look and feel of real wood without any of the drawbacks. You'll benefit from superior protection and energy-efficiency when you invest in an entry door installation from Blue Springs Siding and Windows.
Storm Doors
At Blue Springs Siding and Windows, we know how harsh and unforgiving the Missouri weather can be. From hail to high winds to snow storms, there are plenty of opportunities for your door to be damaged by the elements. The primary purpose of a storm door installation is to protect your door from weather damage, but there are several other benefits to be gained from investing in a new storm door.
Consider your current entryway – could it use a bit more sunlight? A storm door allows you to open your entry door and fill your home with natural light, without compromising your safety or letting air escape from your home. Moreover, storm doors act as an extra layer of insulation for your home that can lower your monthly heating and cooling bills.
Patio Doors
Your patio is the perfect location for a family barbeque, reunion, or a party with your friends and neighbors. No matter what you're using your patio for, it's important to ensure that your patio door is both functional and stylish. We've noticed that homeowners in Lee's Summit are investing more and more into their patios, and we've made it easy and affordable to outfit your patio with a beautiful new patio door. We proudly offer hinged, swinging, and sliding patio door installations in Lee's Summit. If you're wondering which patio door is right for your home, just stop by our showroom in Blue Springs to view our options!
French Doors
French doors are one of the most elegant and stylish additions you can make to your home. We offer the following French door installation options:
Matching Pairs
Single
Outswing
Inswing
Series
We also provide our customers with a variety of glass customization options that can make your French door installation even more personalized:
Transparent: The perfect way to fill a room with natural light.
Translucent: Some light will enter through the glass, but translucent glass provides a bit more privacy than transparent glass.
Tinted: Limits the amount of light that enters through the door and provides even more privacy.
Textured: Adds even more elegance and sophistication to your French doors.
Sliding Doors
Sliding doors are a beautiful addition to any home, but older sliding doors can become frustrating to deal with as they slowly break down and become difficult to open. If your current sliding door has been damaged or has simply seen better days, we can replace your sliding door with a gorgeous replacement that will last for decades.
Blue Springs Siding and Windows proudly serves Lee's Summit with Top Rated Local® door installations, and we provide our customers with a lifetime guarantee on all products and services. Get in touch with us today to outfit your home with a beautiful new door!
Blue Springs Siding and Windows has proudly provided residential roofing services for more than 15 years. Whether your current roof is missing a few shingles or it's been more than a few decades since your roof was replaced, our roof contractors can provide you with a high-quality roof replacement at a price you can afford. Our roofers stay informed with the latest roofing techniques and products in order to ensure that we remain Missouri's first pick for roof replacements. If you're ready to invest in a new roof for your home, then just get in touch with one of our talented roof contractors to request more information! We'll provide you with a free consultation detailing everything you need to know about your next roof replacement. We also guarantee all of our roofing services, so don't wait to purchase the roof your home deserves!
While they're easy to forget about, gutters are an important component of your home. In addition to protecting your roof from water damage, they're also designed to direct water away from your landscape and foundation. Clogged gutters can allow water to soak through your shingles, and they can also create the ideal breeding ground for insects and seeds that have become lodged in your gutters. We know that the last place you want to spend a beautiful Saturday afternoon is cleaning your gutters from the top of a ladder, and our Gutter Defender product is designed to make gutter maintenance as easy as possible. Gutter Defender is a patented nose-forward gutter guard that directs leaves, pine needles, and other debris away from your roof while allowing water to flow away from your home.
---
Sunrooms
Sunrooms
If you're looking for a way to enjoy the outdoors from the comfort of your own home, then a sunroom installation is exactly what you need! Blue Springs Siding and Windows is proud to provide Lee's Summit with composite sunrooms from the experts at Crown Windows and Sunrooms. Crown Windows and Sunrooms is more than your average sunroom manufacturer — they are the first and only sunroom manufacturer in the world to use exclusively vinyl and wood components.
What Are The Benefits Of Composite Sunrooms?
The primary benefit of a composite sunroom is that its innovative design allows for ceiling-to-floor glass panels, providing you with as much natural light as possible. The second biggest advantage of composite sunrooms is that they are durable enough to handle exterior construction, meaning that we can design your sunroom in a way that perfectly matches your home's exterior. Whether you've recently purchased new home siding or you have a particular color of paint that you'd like your sunroom to be, composite sunrooms can be completely customized to fit your preferences.
A sunroom installation is also a great way to improve your home's resale value. Sunrooms add a significant amount of square footage to your home, making them a great long-term investment in the rising Lee's Summit housing market. As an added bonus, you'll find that your heating and cooling costs are lowered after you've invested in a sunroom installation. Our sunrooms exceed the standards set by the following agencies:
The National Fenestration Rating Council (NFRC)
Energy Star
American Architectural Manufacturers Association (AAMA)
National Sunroom Association
All of our sunroom installations are accompanied by the lifetime guarantee on products and services that you've come to expect from Blue Springs Siding and Windows. While we're confident in every installation we perform, we'll be there immediately if you ever have a problem with your sunroom.
Blue Springs Siding and Windows is proud to be Lee's Summit's go-to resource for replacement windows, doors, siding, and so much more. We'd love to help you find a window or door that improves your home without exceeding your budget. We also offer a number of flexible financing options, so don't wait to invest in the products and services your home deserves! Come by our showroom in Blue Springs, or get in touch with us using the contact form below to get started. We look forward to seeing you soon!
Looking to increase the value of your home? Perhaps ready to take on that next DIY project? When it comes to deciding which home improvement project to take on, there are a few different factors to consider. So to help, here's our list of the home improvement projects with the…
Read More
Sign Up For Our Newsletter!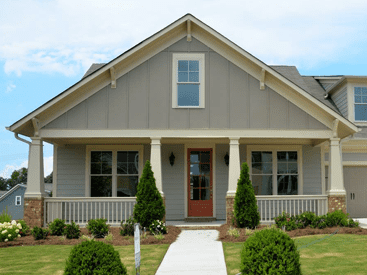 No matter which kind of home siding you choose, it's covered for life! How can we make a promise like that? Simple – we only install high-quality products that will live up to their promises and our high standards.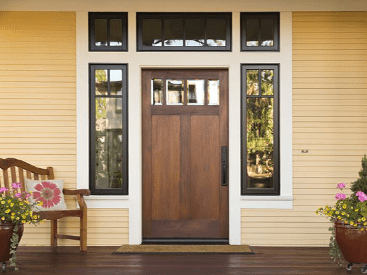 Getting a door replacement has never been easier. From the showroom to your updated home, we handle all the steps in between. We can help you decide which door styles, colors, and materials are right for you and your home.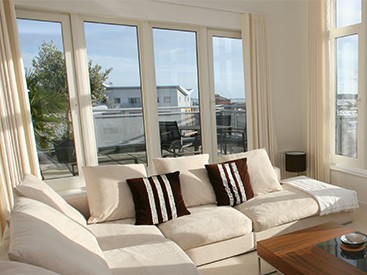 Offering a lifetime warranty on parts and labor, we know the products we use are the best in their class, and we know our window contractors will install them properly so they last for years. Our emphasis is, and always will be, on quality.