The Best Products & Installation... Guaranteed!
At Blue Springs Siding and Windows, we know that it takes a significant investment to improve your home. From the products you choose to the contractors that perform the installation, there are many details that have to be considered before you commit to anything. As a Top Rated Local® window and siding company in Lenexa, our mission is to make improving your home as easy and affordable as possible. How do we do it? Our commitment to your success begins with quality.
It doesn't matter if you come to us for a single door installation or you need our siding contractors to replace every inch of your home's siding — you'll only receive the best of the best when you work with Blue Springs Siding and Windows. We're accredited by the Better Business Bureau, and we couldn't be more proud to boast an A+ rating. We've received numerous accolades from HomeAdvisor, and you'll find that our customer reviews are nothing but exceptional. Read on to learn more about the products and services we offer in Lenexa, and get in touch with a member of Blue Springs Siding and Windows today to request a free estimate!
Choosing New Windows Has Never Been Easier!
If you're looking for window installations in Lenexa, then you've come to the right place. At Blue Springs Siding and Windows, we've made it easier than ever to outfit your home with beautiful replacement windows that increase your energy efficiency and boost your home's curb appeal. We have a variety of window installation options from which to choose.
Picture Windows
If you're looking for a way to create an eye-catching focal point in your home while also increasing the amount of natural light that fills your home, then a picture window installation is exactly what you need. While picture windows are inoperable and do not open like double-hung or casement windows, they can transform any room from ordinary to extraordinary.
Constructed from a large single pane of glass, the main purpose of a picture window is to frame an area around your home and provide you with a beautiful view. Perhaps your dining room overlooks your amazing garden during the summer, or maybe your favorite reading nook looks out over a calming cluster of trees that change colors every season. No matter where in Lenexa your home is located, we guarantee that you'll love the view delivered by a picture window installation. As an added bonus, you'll love the ability to use natural sunlight instead of electricity to illuminate your home during the day, ultimately lowering the bottom line of your monthly utility bills.
Double-Hung Windows
While we perform a variety of window installations in Lenexa, our double-hung window installations are by far the most popular. Double-hung windows are the most common windows you'll find throughout the United States, and it's easy to understand why. Featuring a classic look and the ability to open from either the top or the bottom, double-hung windows are both easy to use and extremely affordable. You'll also find that the panes can be tilted inward, making them easy to clean no matter where they're installed.
If you're looking for a way to make your double-hung window installation even more interesting, then you should consider adding a radius top to your purchase. A radius top window is a half-moon window that sits atop one, or several, windows. We noted above that double-hung windows are a traditional and simple style, but a radius top can create an interesting and sophisticated effect.
Bow And Bay Windows
Many homeowners who reach out to us for window installations in Lenexa are looking for something more interesting than traditional windows, and our go-to suggestion is always bow and bay windows. There is a slight, but important, difference between bow and bay windows. While bay windows use at least four windows to create a smooth curve, bow windows have sharper angles and utilize as few as three windows.
It doesn't matter if you choose a bow window installation or a bay window installation for your home — the design possibilities are virtually endless. You can install a series of cushions just under the bottom of the window pane to create a beautiful and comfortable reading nook, or you can use the space to make your dining room more open and inviting. If you're curious about what bow and bay windows would look like in your home, then just come by our showroom in Blue Springs. Our window contractors will happily help you determine the right space and style for your new windows.
Casement Windows
Available in two different styles, our casement windows are another of our most popular window installation options. Casement windows swing open from the left or from the right, and windows that open vertically are known as "awning windows." You may have also heard these windows referred to as "crank windows," and this moniker is coined from the mechanism used to open and close the glass. Just like double-hung windows, casement windows are an excellent choice for homeowners looking for a window that delivers great ventilation and plenty of natural sunlight. Both styles open away from the home, catching air from the outdoors and pulling it in.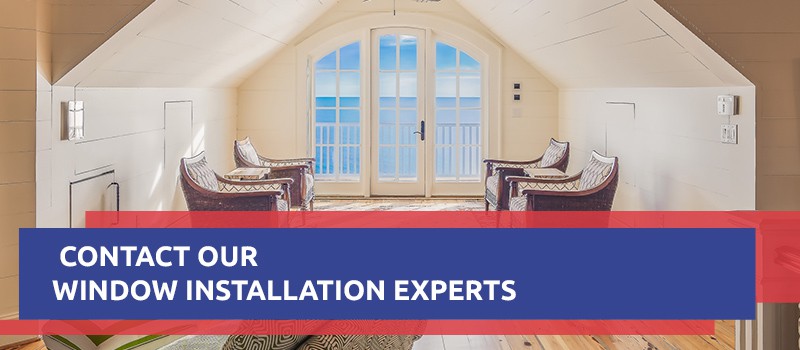 Find A Great New Door For Your Home
Lenexa homeowners are investing in door installations for a variety of reasons. Whether you're hoping to increase your home's security or you're hoping to improve your home's curb appeal before listing it on the market, a door installation is the perfect way to improve your home's beauty. Continue reading below to learn more about our door options, and don't hesitate to get in touch with us for a free estimate!
French Doors
Many people believe that French doors are simply two slender doors that divide a room or create an interesting entryway, but they're actually so much more. While it's true that French doors are most commonly found in pairs, the distinguishing feature of French doors is the fact that they have glass panes partially or fully extended through the length of the door. At Blue Springs Siding and Windows, we proudly carry a variety of customization options that provide you with a truly one-of-a-kind French door installation.
You'll start by choosing a French door style that suits your home and design preferences. You can choose from:
Single
Outswing
Inswing
Series
Matching Pairs
After you've found the perfect style for your home, you'll then choose a style of glass that further customizes your French door installation:
Transparent Glass: Transparent glass will allow light to flow uninterrupted between rooms, and this option is perfect for living rooms, patios, and other gathering areas.
Translucent Glass: Like transparent glass, translucent glass is a great option for French doors dividing common gathering spaces, but it blocks out slightly more light.
Tinted Glass: With exceptional light-blocking capabilities, tinted glass is ideal for French doors leading to bedrooms, offices, and other private areas of the home.
Textured: Textured glass is the perfect option for homeowners who want to create a unique and fully customized set of French doors.
With the ability to install them anywhere in the home, you'll love the versatility of your new French Doors.
Entry Doors
The front of your home is the first thing that your friends, family, and guests see when they arrive, and part of maintaining an attractive home is keeping up with your entryway. You've probably planted flowers around your landscape, and you may even have cute knick-knacks and a small seating area on your front porch. While these additions are all valuable components of a warm and welcoming home, your entry door is the focal point of your house, and as such, it's important that it sets the proper tone for the rest of your home.
Our entry door installations are designed to provide you with the best in security and aesthetic appeal. We proudly supply Pro-Via entry doors, which are known throughout the door installation industry for their performance and beauty. Pro-Via entry doors are constructed from fiberglass and other durable components that deliver the aesthetic qualities and feel of wood, but aren't susceptible to cracking, warping, and rotting. In addition to increasing your home's beauty and improving your security, you'll also find that our entry doors increase your home's energy efficiency by preventing warm and cold air from escaping.
Storm Doors
Whether you've recently invested in a new door or you're simply looking to protect your current entry door, a storm door installation is one of the best ways to protect your entryway without compromising its beauty. The Kansas City metropolitan area is known for its dynamic weather, and Lenexa is no exception. We experience wind, rain, snow, and hail throughout the year, and the elements can certainly take a toll on your entry door over time. Our storm doors are designed to be both weather-resistant and energy efficient, providing you with an extra layer of protection for your investment that will last for years.
While the primary purpose of a storm door installation is to protect your entryway, you'll also benefit from energy-saving effects when you invest in a new storm door. You'll be able to open your entry door and fill your home with natural light during the day, but without worrying about intruders or insects entering your home.
Patio Doors
Do you enjoy using your patio frequently throughout the year? If you're like many Lenexa residents, then you probably fire up the grill for your friends and family during the summer and keep warm in the winter with a fire pit. At Blue Springs Siding and Windows, we've helped with an increasing number of patio door installations in Lenexa, and we're here to help you create the outdoor space of your dreams
Many older patio doors don't provide a view of the backyard, and if your home is older, then your door may be getting harder to open and close by the day. Our patio doors are designed to provide you with the best in functionality and beauty, and our showroom has a large number of patio door options from which to choose. You can choose swinging patio doors with customized windows, or you can even choose French doors that complement your outdoor decor.
We also offer sliding door installations that can save you a significant amount of space. If you're tired of your current patio door influencing how you decorate the dining room or your outdoor entertainment space, then you'll love the freedom provided by a sliding patio door.
If you would like to learn more about any of our door installation options, or if you're ready to get started, just get in touch with one of our friendly team members! You can reach us at 816-542-3949, through our convenient online contact page, or you can come to our showroom in Blue Springs to see our door installation options for yourself.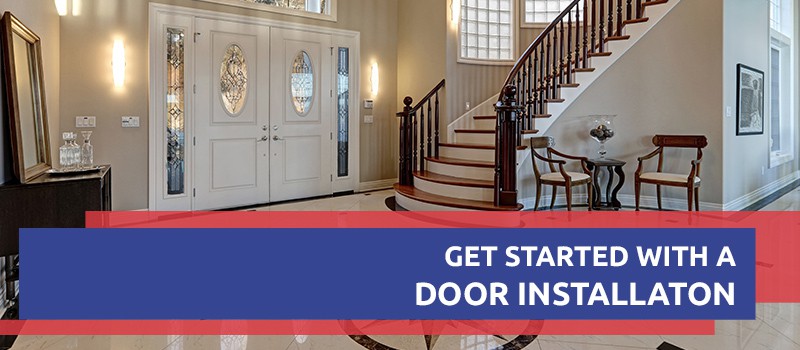 Outfit Your Lenexa Home With New Siding
While you're probably used to admiring certain features of your home like your entry door or your landscape, it's important to remember that your home's siding can significantly add, or detract, from your home's curb appeal. At Blue Springs Siding and Windows, we're incredibly selective about the siding contractors we employ and the products we carry. You can learn more about our siding options below, or you can contact one of our siding contractors through our website for a free estimate!
Vinyl Siding
Vinyl siding is the most popular kind of siding you'll find around the United States, and we've been using it in our siding replacement jobs for more than 15 years. Vinyl siding delivers an unparalleled combination of affordability and durability, and a simple rinse of soap and water once or twice a year is all that's needed for maintenance.
Our go-to vinyl siding choice is Prodigy by Alside, and many homeowners have reported that their monthly energy bills decreased after replacing their siding. Prodigy vinyl siding is up to 1.5 inches thick, and you may even notice a decrease in noise pollution after the siding installation has been completed.
James Hardie Siding
If you're looking for siding that is as aesthetically impressive as it is functional, then you should consider investing in James Hardie siding. Founded in Melbourne, Australia in 1888, James Hardie quickly became the siding industry's leader. James Hardie siding has several advantages, but the primary selling point is that it's incredibly durable. This siding option will protect your home from:
Weather: Lenexa and the surrounding areas are known to experience harsh weather conditions throughout the year, but James Hardie siding will stand strong against the elements.
Fire: James Hardie siding is flame-resistant and noncombustible, providing you with the peace of mind you're looking for in a home siding option.
Pests: Termites, woodpeckers, and other pests have been known to enter homes through damaged siding, creating health hazards and putting your home at risk of structural damage. James Hardie siding resists both small and large pests, ensuring that you and your family are the only ones living in your home.
Moisture: One of the primary causes of siding damage is water, but James Hardie's innovative water-resistant technology prevents warping, rotting, and other forms of water damage.
James Hardie siding will last you for years to come, so get in touch with our siding contractors to request a free, no-obligation estimate for your home!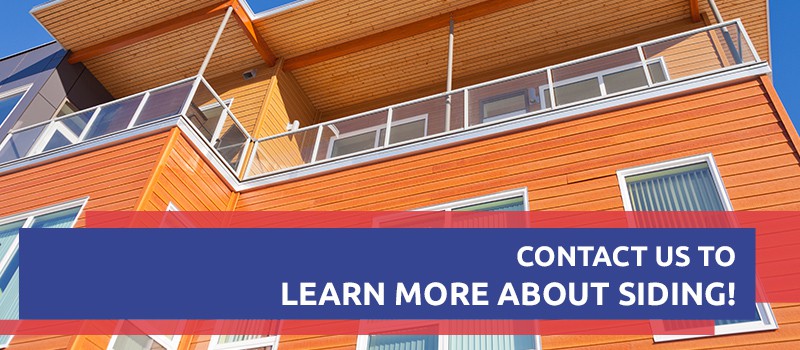 Bask In The Sun With A Sunroom Installation
A new sunroom is an excellent investment, but many homeowners aren't sure where to begin when it comes to sunroom installations. Blue Springs Siding and Windows is proud to be the go-to provider of sunroom installations in Lenexa, and we can help you with everything from the initial design plans to the installation itself.
We take pride in the products we've chosen to carry, and being a recognized supplier of composite sunrooms from Crown Windows & Sunrooms is another aspect of our ongoing commitment to quality. Crown Windows & Sunrooms produces innovative and cutting-edge sunrooms composed of vinyl and wood, and they're the only sunrooms you'll find on the market that are manufactured here in the United States!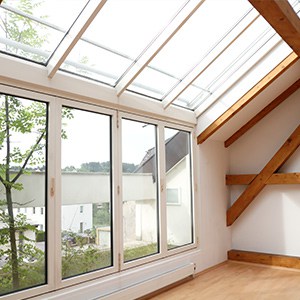 There are two primary reasons why our customers love our composite sunrooms:
Flexibility: Unlike other sunrooms in Lenexa, composite sunrooms from Crown Windows & Sunrooms can be completely customized and painted to your specifications. Many homeowners worry that their new sunroom won't match their home's exterior, but this feature completely alleviates this worry.
Unique Construction: If you're investing in a sunroom installation, then you want to ensure that you're maximizing the return on your investment. You purchased a sunroom because you want the ability to enjoy a bright and vibrant room, and the unique construction of composite sunrooms maximizes the amount of sunlight that enters the room. Our composite sunrooms allow for glass panels that extend from the floor to the ceiling, delivering an exceptional and unfiltered view of the areas surrounding your home.
The benefits of a sunroom don't stop there. Sunrooms are considered to a be an additional room, meaning that a sunroom installation adds square footage and increases your home's resale value. You'll also find that the rooms adjacent to your sunroom receive plenty of natural sunlight during the day, reducing the need to illuminate your home with electricity. In fact, our sunrooms meet and exceed the efficiency standards put forth by each of the following agencies:
National Sunroom Association (NSA)
National Fenestration Rating Council (NFRC)
American Architectural Manufacturers Association (AAMA)
Energy Star
We've performed hundreds of sunroom installations in Lenexa, and we would love to help you create the perfect sunny space in your home. We offer lifetime warranties on all of our products and services, and our sunrooms are no exception. You can request more information about our sunrooms online, or you can stop by our showroom in Blue Springs to see our products for yourself!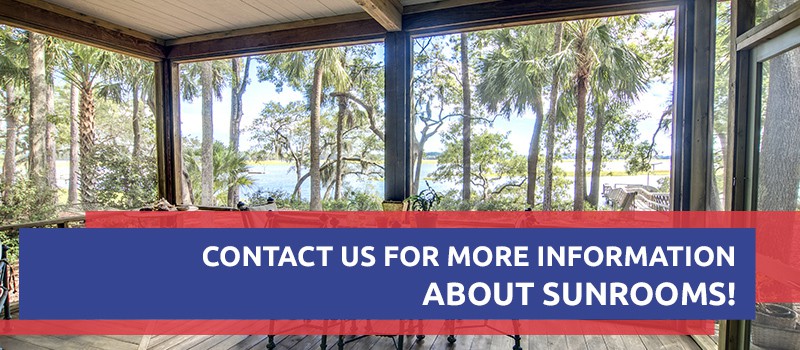 Increase Your Home's Curb Appeal With A Roof Replacement
Just like your siding, your roof goes largely unnoticed until it's in poor condition. Your home's roof provides you with insulation, safety, and adds to your home's curb appeal, making it an incredibly important to monitor and maintain your roof as it ages. Unlike cars, electronics, and other possessions you may own, roofs will often reach the end of their life cycles without any obvious defects or serious failures. You don't want to wait until your roof has sprung a leak or begun to curve inward to invest in a new roof, so watch your roof closely for the following indications that it may be time to purchase a replacement:
Your shingles are beginning to curl at the edges
The granules from your shingles are missing
Your roof is more than 20 years old
Your roof is looking patchy and worn
If your roof is suffering from any conditions, then your home could benefit from a roof replacement. Blue Springs Siding and Windows has been performing roof replacements in Lenexa and the surrounding areas for more than 15 years. We'll make sure that every step of the roof installation process is performed correctly, and like everything we do, your new roof will be backed by our lifetime guarantee. Give our local roofers a call to get started!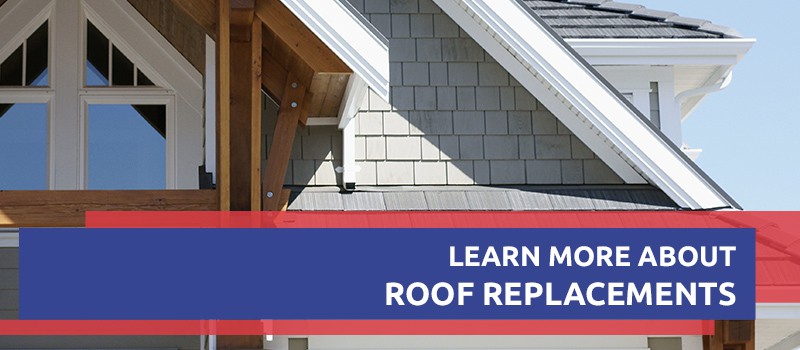 Learn About Our Revolutionary Gutter Guards
If you're like most Americans, then gutter maintenance is probably always the last item on your to-do list. Nobody likes to spend their day off cleaning leaves and other debris out of their gutters, but your home could be at risk of water damage without proper gutter maintenance. As we explain in one of our blog posts, your gutters affect the health of your roof, foundation, and landscape. The last thing you want is to discover that mold, water, or insects have damaged your home or property, so let us help you with our cutting-edge gutter guards!
Many of the gutter guards you'll find on today's market allow small leaves, pine needles, and other debris to trickle into your gutters, but our Gutter Defender product uses a patented nose-forward design to funnel water into your gutters while directing everything else to the ground. Even during intense storms, you'll find that Gutter Defender efficiently channels water into your gutters and away from your home. We know that you'll enjoy the peace of mind that comes from high-quality gutter guards, but with less maintenance, you'll also enjoy having more time to spend with your friends and family!

Blue Springs Siding and Windows is your go-to resource for all of your home improvement needs. Whether you need a single window installation or door installations throughout your entire home, our team is here to help you create the sanctuary you deserve. Unlike other siding and window companies in Lenexa, our commitment to quality doesn't end when we've completed the job.
Blue Springs Siding and Windows proudly provides every customer with a lifetime warranty on all parts and services, giving you the confidence and the peace of mind you need to invest in your home. From the materials we supply to the staff we employ, we strive to provide our customers with the best of the best. Don't take our word for it, though — read our customer reviews for yourself!
Are you ready to take the next step toward the home of your dreams? Contact Blue Springs Siding and Windows today for a free estimate!
There are many different types of windows, each with their own list of benefits and styles.  While some windows focus on maximizing internal light and providing a picturesque view, others are designed for increased airflow or even security.  Choosing the right window type starts with examining your ideal exterior design,…
Read More
Sign Up For Our Newsletter!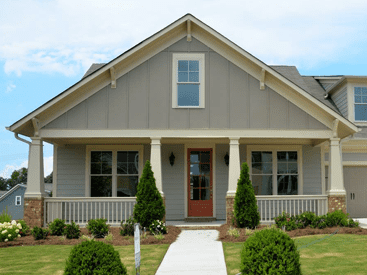 No matter which kind of home siding you choose, it's covered for life! How can we make a promise like that? Simple – we only install high-quality products that will live up to their promises and our high standards.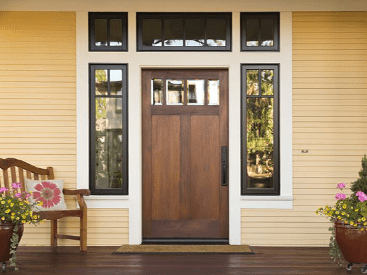 Getting a door replacement has never been easier. From the showroom to your updated home, we handle all the steps in between. We can help you decide which door styles, colors, and materials are right for you and your home.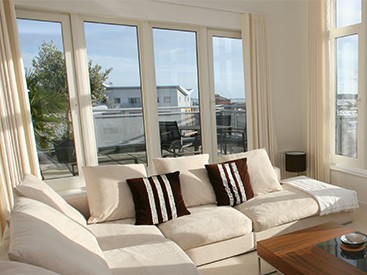 Offering a lifetime warranty on parts and labor, we know the products we use are the best in their class, and we know our window contractors will install them properly so they last for years. Our emphasis is, and always will be, on quality.