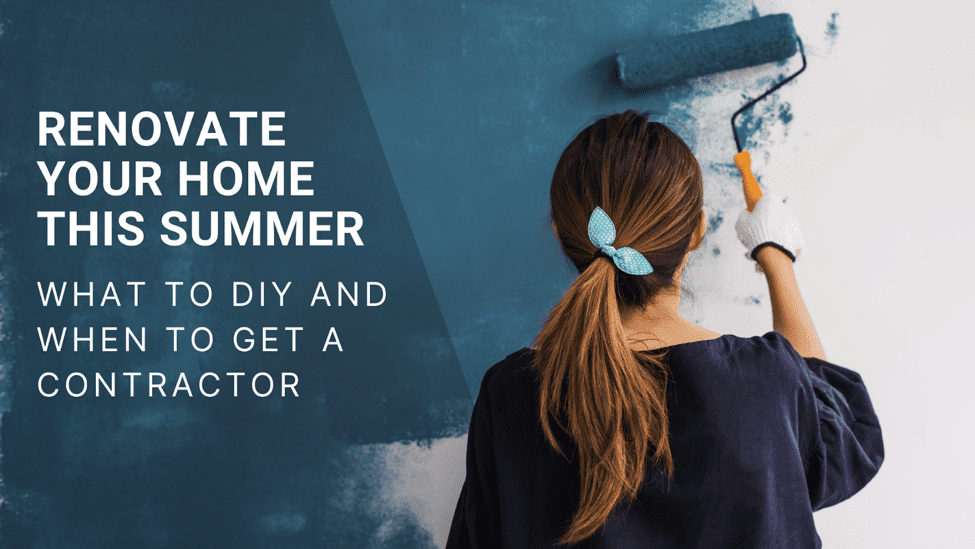 With summer drawing near, many are thinking about DIY projects to improve their home. It's easy to get caught up in all the grand plans and changes you can make without putting much thought into the do-it part of the project. Without proper planning and planning, even simple tasks are difficult to complete. Unfortunately, more complex projects could even damage your home's integrity if completed incorrectly. So, what home renovations should a DIYer take on? We've put together the top projects to do yourself and which ones to leave to the professions to minimize costly home renovation mistakes.
Top 5 Home Improvement Projects to Do Yourself

Update Old Furniture
Redoing outdated furniture is a cost-effective way to level up your home's interior design. To start, choose your piece. We suggest checking your local Facebook Marketplace, thrift stores, and yard sales for any cheap furniture that catches your eye. Once you have that, it is time to get creative. Novice do-it-yourselfers can use vinyl contact paper or paint for a quick refresh, using whatever colors or patterns meet your fancy. New door hardware, or old hardware that is painted, helps tie the look together. Those who have been around the DIY block for a bit longer can look for those pieces that need a little bit more love. Get out your paint stripper, sander, and go wild.
DIY Lighting Upgrades
New light fixtures can cost a pretty penny. Luckily, old lights can look brand new with just a few touches. Do you have an old chandelier or hanging light fixture? Believe it or not, spray painting a new color or metallic shade can breathe new life into it. Have a trusty old lamp that may or may not have come from your grandmother's house? Give it a spray paint and try your hand at making a custom light shade. Just be sure to use flame-resistant fabric.
DIY Feature Wall
We've been talking a lot about the power of paint, and while you can paint a lovely feature wall, we've had our eye on the refurbished wood wall. Skip the big brand department stores and opt for wood from old projects, wooden pallets, or broken furniture. It's sustainable and cheap! From there, you'll need to strip it down to its original glory, sand it, and decide between a natural look or painted. Don't be afraid to experiment with mixed textures, colors, and patterns; just lay out the template on the wall first!
Easy DIY Floor Redo
Vinyl planks are an excellent option for the handy homeowner looking to upgrade their floors without tearing the old ones out first. They come in every color or pattern imaginable while also being waterproof and durable. Their interlocking plank design is easy and intuitive to lay and usually won't require additional adhesive.
DIY Cabinet Make-Over
Let's say you want to change up your kitchen without spending thousands of dollars on new cabinets. What should you do? The first option is to break out the paint again. This time, however, look for the slightly more expensive paint designed for cabinets. Trust us. This will save you from having to recoat it and provide a smooth, professional finish. Another option is to either knock out the center panel of the cabinet door and replace it with another material that you enjoy, like fabric or wicker.
Top 5 Renovation Projects to Leave to the Professionals

New Windows
It may seem tempting to purchase windows and try to install them yourself. And, while this method is cheaper to start with, the costs of poorly installed windows could easily exceed professional installation. In the long run, DIY window installations are more likely to have a poor seal that invites water damage, nulls any energy benefits, and may let in bugs or pests. You'll also lose out on any lifetime warranties, like the one Blue Springs provides, on parts and labor to protect you.
Siding Replacement
Advanced DIYers may successfully repaint their siding, but, odds are, faded paint is a sign that there may be other issues present. There could be unseen cracks, holes, or infestations that the average homeowner might not see. Instead of covering the problem up, call in a professional siding contractor like Blue Springs Siding and Windows. We'll investigate your siding and provide a free estimate for either a total replacement or repair. We provide energy-efficient, beautiful fiber cement siding by James Hardie and Prodigy vinyl siding by Alside. Both options are perfect for the Kansas City area homeowner.
Roofing Fixes or Replacement
We've heard plenty of horror stories about homeowners trying to fix a leaking roof with leak seal paint or tape. Seeing that the leak stopped, they assumed their roof was repaired and forgot about it, until suddenly, after a strong storm, the leak was back with a vengeance. Not only is the leak worse, nine times out of 10, it never actually stopped. Less water dribbled in, which didn't go through the ceiling but traveled between the layers destroying beams, joists, and rafters. Let's rewrite the end of the story together. We use only top-quality roofing materials to repair or replace your roof. So, when you spot a leak, bring in a professional roofing contractor and save yourself later heartache. We use only top-quality roofing materials to repair or replace your roof.
Gutters Installation
Purchasing and installing store-bought gutters is almost always more trouble than it's worth. These products have a lot of seams which, if installed incorrectly, will cause sagging. Ultimately, these mistakes can cause the gutter to break or leak and cause water damage. The professional installation puts these fears to rest and ensures that your gutters will last as long as possible.
New Door Installation
Those very skilled in home improvement, power tools, and carpentry can most likely replace a door or put in a pre-hung door themselves. However, if done incorrectly, the home won't be as well protected and won't come with the added benefit of a lifetime warranty on parts and labor. If looking to put a hole in their exterior or interior wall for an entirely new door, even skilled DIYers are encouraged to call a professional. Why? Cutting into a wall could damage structural integrity or reveal wires and pipes that needed to be rerouted. Breaking or damaging these things would cost substantially more than paying for a door installation.
Need Professional Help for Your Renovation?
You have high standards for your Kansas City home, and that's what we deliver. Our materials and labor are of the highest quality, so you'll never have to worry about surprise problems later down the road. And if you do, we're here to make it right. Call us today at 816-228-5225 for a professional consultation and a free estimate.