Let Our Gutter Guards Handle The Hard Work For You!
At Blue Springs Siding and Windows, we know how time-consuming and frustrating it can be to clean your gutters. Between climbing up on the roof and scraping out who-knows-what from your gutters, there's nothing glamorous or enjoyable about gutter maintenance. Instead of spending hours cleaning your home's gutters throughout the year, let our patented gutter guards take care of the hard work for you. You can read more about Gutter Defender below, and you can get in touch with us using the form on this page to request a free quote!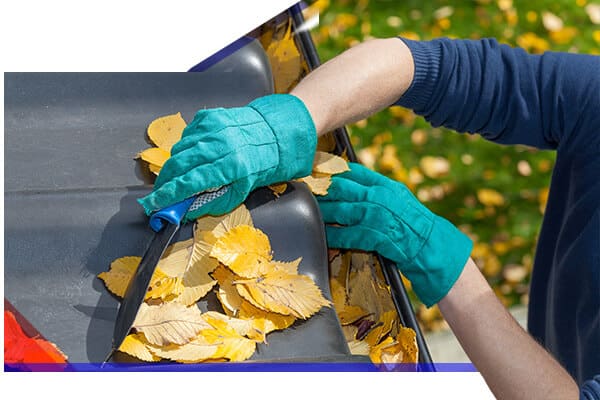 In Addition To Freeing Up Your Schedule, Gutter Defender Provides You With Protection From:
Rust

Insects And Rodent Infestations

Mold Growth

Ice Dams

Fires
Nobody likes cleaning their gutters. Climbing up a ladder every other weekend to clear out leaves and other debris is often the last item you'll check off your to-do list, and understandably so! It's cold, dangerous, and gross. Simply put, there's nothing attractive about gutter maintenance.
At Blue Springs Siding and Windows, we dislike clogged gutters as much as you do, so we came up with an innovative way to make your life easier. If you live in the Kansas City area and want to get rid of gutter cleaning forever, our Gutter Defender leafless gutter guard system will keep debris out of your gutters and keep the rainwater flowing efficiently.
The Importance Of Clean Gutters
Gutters are part of your home's rainwater management system. They help to channel water away from your property, and they also help prevent a number of other problems, including:
Mold growth
Deck and foundation damage
Landscape destruction
Infestations of termites, mosquitoes, and rodents
Many homeowners are surprised when they read the list above and learn how much damage can be caused by clogged gutters, but it's true — clogged gutters can cause thousands of dollars in damage to your home.
When leaves and other debris fall into your gutters and collect, they often build up and allow even more material to fill the space. The gutters become plugged with rotting material, and sometimes, new plants even sprout up from the makeshift compost. Plus, the water that can't run off will become stagnant and attract mosquitoes. In the winter, water can dam up, freeze, and then cause damage to your roof and put anything below your roof in danger. In other words, there's nothing good about clogged gutters, no matter what time of the year it may be.
How Gutter Defender Works
What makes Gutter Defender so effective? What makes it different from other gutter guards on the market?
Our gutter cover system uses the same principle that allows water to rise above the rim of a glass — surface tension. Gutter Defender's patented nose-forward design extends past the lip of your gutter, eliminating all vertical openings. Rainwater flows across this cover and surface tension funnels it through the special contours of the cover and into the gutter while leaves, pine needles, and debris fall harmlessly to the ground. Even during heavy downpours, water is easily channeled into the gutter and away from your home.
Gutter Defender Is Designed And Built To Last A Lifetime!
At Blue Springs Siding and Windows, we know that making any kind of investment in your home is a big decision. We also know that you don't want to settle for anything less than excellent customer service when you're making your purchase, and that's why we provide all of our customers with an industry-leading lifetime warranty on all parts and labor.
Gutter Defender is our top choice for keeping your gutters leaf- and debris-free. This closed gutter guard system will permanently eliminate the hassles and risks involved with cleaning your gutters, so you can spend less time on a ladder and more time enjoying your weekends.
Take your first step toward clog-free gutters with our Gutter Defender system and our best-in-class lifetime warranty. For a free consultation with Blue Springs Siding and Windows, please call our gutter guard installation experts or fill out the contact form on our website. We'll gladly answer any questions you have and provide you with the information you need in order to make an informed decision for your home.
We can't wait to work with you!
Choosing the Right Replacement Siding There are several factors to think about when choosing the materials for your home's exterior. What will match your home's existing exterior design? Are there cost-effective siding options out there? Which siding option needs the least amount of maintenance? How long does siding installation take?…
Read More
Sign Up For Our Newsletter!