Transform Any Room In Your Home!
French doors are as elegant as they are versatile. They can take any room from ordinary to extraordinary while also increasing your home's value, and we proudly carry the best selection in the Kansas City area. Continue reading below to learn more about why your home needs French doors, and get in touch with Blue Springs Siding and Windows today for a free, no-obligation estimate for your home!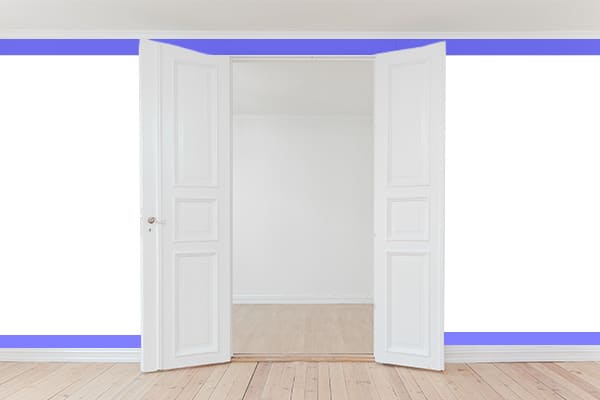 French Doors Are One Of The Best Investments You Can Make In Your Home!
Improved Home Value

Unparalleled Beauty

Endless Customization Options

Energy-Efficient And Well-Insulated

Ample Natural Light
French doors are a great way to add architectural elegance to your home while also increasing its resale value and overall beauty. They'll do wonders for your energy bills, too, as our French doors are designed using the most energy-efficient materials available. Our French doors are strong, durable, and ready to be installed in any room of your home. And when you hire us for your French door installation, our technicians will ensure that they will last for years. When you're ready to add or replace the French doors in your home, just give us a call or come by our showroom in Blue Springs for a free door installation estimate!
Valuable And Versatile
Another great feature of French doors is that they look great, no matter where you install them. You can use them as an exterior door that opens to your patio, balcony, or sunroom, providing you with easy access and filling the adjacent rooms with plenty of natural light during the day. You can also install French doors in virtually any room of your home as room dividers, or as an entryway to a den, office, or bedroom. We're happy to help you determine where French doors would be ideal in your home, so please reach out to us if you would like assistance!
A Variety Of Door Installation Options
French doors can be installed in several different ways in order to fit your home layout, aesthetic, and personal needs.
Single
Matching Pairs
Series
Inswing
Outswing
Are you wondering which style is right for your home? Come by our showroom to see all of our options for yourself!
Glass Options For Your French Door
Once you've decided which type of French door you want installed or replaced, it's time to focus on the glass. We offer several choices when it comes to the design of your doors.
Transparent: Lets plenty of light into any room. Transparent glass is ideal for spaces that connect to the outdoors.
Translucent: Provides a little more privacy than transparent doors. This option is also great for rooms that connect to the outdoors.
Tinted: Ensures even more privacy and limits the amount of light that shines through. Tinted glass is a great option for indoor spaces like bedrooms and offices.
Textured: Textured glass is an excellent way to add a little more detail to your French doors. This option provides you with full privacy, and it is a great option for both indoor rooms and spaces that connect to your home's exterior
Still not sure which one is right for you? Stop by our showroom to get a better idea of what they might look like in your home.
Trust The Best In The Business
Why choose Blue Springs Siding and Windows for your French door installation? Simply put: We stand for quality. Many other companies in Kansas City may claim that they stand for quality, but we back it up with a guarantee that our competitors cannot match. If you have trouble with anything at any time after the installation, we'll be there to make it right. We proudly provide each of our customers with a lifetime guarantee on all products and services, allowing you to invest in your home with confidence.
When you start with quality French doors and use only the best contractors in the business for the door installation, you're going to get a great result. Let Blue Springs Siding and Windows install your new replacement French doors today!
For a free door installation consultation with Blue Springs Siding and Windows, please call our showroom or contact our technicians through our website.
We look forward to working with you!
Choosing the Right Replacement Siding There are several factors to think about when choosing the materials for your home's exterior. What will match your home's existing exterior design? Are there cost-effective siding options out there? Which siding option needs the least amount of maintenance? How long does siding installation take?…
Read More
Sign Up For Our Newsletter!