Gorgeous Views At Affordable Prices
If you're looking for a way to frame the most beautiful areas around your home, then picture windows are exactly what you need. Composed from a single pane of glass that can be installed in any room of your home, picture windows are the ideal way to enjoy the scenic spaces you're surrounded by. Continue reading below to learn more about why you should purchase a picture window for your home, and get in touch with Blue Springs Siding and Windows for a free window installation estimate!
Why Choose Picture Windows For Your Home?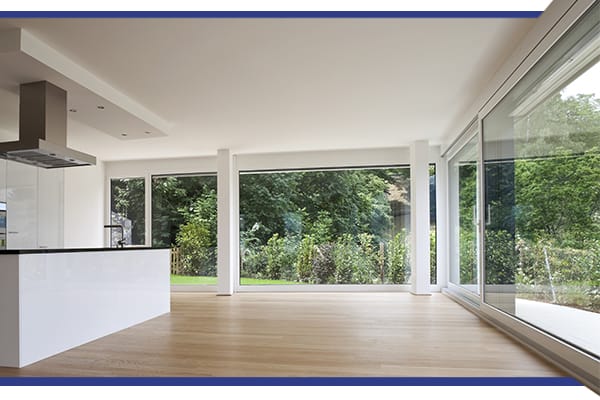 Exceptional Views

Easy To Maintain

No Moving Parts

Unobstructed Natrual Light

Insulated And Energy-Efficient
A picture window is a single large window, usually located in an area of the home with a gorgeous view. The objective of a picture window is to frame the beautiful scenery outside, whether it's a city skyline or a well-tended rose garden, as if it were a picture. Picture windows are typically comprised of a single oversized pane, as multiple panes would mean additional frames that would interrupt the view. They are also usually longer horizontally, so as to provide a more panoramic dimension and outlook.
Quality Window Installations From Brands You Can Trust

Blue Springs Siding and Windows knows a thing or two about installing picture windows — it is in our name, after all! As part of our ongoing commitment to providing our customers with the best replacement windows on the market, we've chosen to supply SoftLite brand windows. SoftLite picture windows provide superior energy savings and the lowest air infiltration of any window on the market. They're also incredibly long-lasting, ensuring that your new picture window will last for years to come.
If you're worried that adding more windows to your house will make it tougher to heat and cool, don't sweat it! In fact, our replacement windows will make it easier for you to maintain a stable and comfortable temperature in your home throughout the year! You'll save money on your energy bills when you contact us for a picture window installation by SoftLite in your Kansas City area home.
Are you planning on selling your home at some point in the future? Picture windows can be an excellent selling point when it comes time to list your home, and buyers will undoubtedly be impressed when they arrive for an in-person tour. You can also expect your investment to raise your home's value, allowing you to recoup some of the installation costs when you've successfully sold your property.
---

Transform Your Space With Picture Windows
There's nothing like a picture window to change how a room feels. If you have a large wall in a living room, dining room, or family room, then simply adding a picture window can create an entirely different atmosphere in that space. Your guests may even think you remodeled the whole room! These windows really are attention-getters and are a great way to invite the outdoors in. Imagine enjoying a beautiful sunrise or a gentle snowfall from the comfort of your couch! Let our window contractors help make that dream a reality!
Still not sure if a picture window is the right choice for your home? Visit the Blue Springs Siding and Windows showroom and see the amazing quality and detail they can add to your home for yourself! We take pride in putting our customers first, and we'll never push you to purchase a window that is out of your price range or isn't right for your home. We have your best interests in mind, and you can rest assured that we'll provide you with the same level of care and dedication we give to our own homes.
---
Our Lifetime Warranty Gives You Peace Of Mind
At Blue Springs Siding and Windows, all our windows come with a lifetime warranty on parts and labor. That's right — you're covered for life when you choose Blue Springs Siding and Windows for a window installation project! Whether you need a simple tune-up or a replacement component years down the line, we'll cover everything you need. We can offer this unique warranty with confidence because we use only the best products and installation experts to perform the work. It's all about quality. We promise it, and we deliver it with each and every installation we perform.
For a free picture window consultation with Blue Springs Siding and Windows, please call our window installation experts or fill out our contact form below.
We look forward to working with you soon!
Siding is one of the most important and underrated aspects of your home. Not only does it protect your home from the elements, but also accent design, and can even have a big impact on those monthly energy bills. Is your siding trying to tell you something? Here are 5…
Read More
Sign Up For Our Newsletter!