The Best Products & Installation... Guaranteed!
If you've considered outfitting your home with a new roof, you won't find a better company for the job than Blue Springs Siding and Windows. We've been a leader in residential roofing replacement in the Kansas City area for more than 15 years. Homeowners trust our roofing services because we have a reputation for using the best materials and ensuring excellent installation. When you combine these two ingredients, you get the most solid, dependable roof for your money. Whether your current roof has seen better days or you're seeking to increase the overall value of your home, a replacement roof will do wonders for your home. Are you ready to get started?
---
The Components of a Great Roof
While roofs may appear to be a simple, single layer, they're actually quite complex. The primary function of a roof is to protect your home from the elements, but a quality roof will also provide your home with superior insulation.
Roofs are constructed using the following elements:
Underlayment: If you've ever seen a roof being installed, you may have noticed a layer of dark paper covering the wooden structure below — this is the underlayment. Underlayment is typically combined with a waterproof sealant to provide your home with an extra layer of protection from water and wind.
Flashing: While your roof's underlayment provides an effective barrier between your home and the elements, additional protection is needed to prevent water damage during heavy downpours. Flashing is generally made of sheet metal or hard plastic, though other materials can be used. In general, you'll find flashing around the bases of chimneys, along the edges of windows and skylights, around vents, and in the valleys of your roof. Water can creep in through small crevices and openings in your roof, but flashing provides your home with an extra layer of protection.
Shingles: Shingles are the component of your roof that you're probably the most familiar with. Sitting directly on top of the underlayment, shingles are your home's first line of defense against wind, rain, hail, and snow. Shingles are generally laid in an overlapping pattern, though other placement styles can be used to achieve a unique look.
Trim: Your trim is one element you may have chosen to change once or twice while painting your home. Your trim adds an accent to your roof that can make your home stand out from others in the neighborhood. In addition to looking great, trim provides a layer of protection anywhere that your roof has a seam.


Is It Time to Replace Your Roof?
As roofing experts, one of the most common questions we receive concerns when a roof should be replaced rather than repaired. While every situation is different, there are a few things you should be looking for:
Old Age
If you have an older home, you should look to see when the roof was last replaced. A typical roof composed of asphalt shingles is expected to last anywhere from 20 to 30 years, but in general, you should be thinking about a roof replacement starting at age 20. If your roof hasn't been looked at by an expert in more than 30 years, then you should seriously consider calling a roof contractor for an inspection. If you live in a neighborhood in which the homes were constructed at similar times, you can ask your neighbors about when they plan to replace their roofs.
Missing and Curling Shingles
Curling shingles a sure sign that it's time to begin thinking about a roof replacement. Shingles can curl in two different ways: cupping and curling. The former will turn upward and fold toward the center of the shingle, while the latter will curl from the middle out. Regardless of whether your shingles are cupping or curling, both are indications that your roof has been severely battered by the weather.
Another sign that it may be time to replace your windows is when you find that entire singles are missing. While it's generally not a difficult task to replace a few shingles here and there, the main problem lies with aesthetic appeal. If your roof is at the point of losing shingles, then it's highly likely that the shingles have been bleached and discolored by the sun. The color of your shingles has almost certainly changed in the time since your last roof installation, and a few new shingles can look odd from afar. Your home can begin to look battered and unsightly when the roof is checkered and spotty, so considering investing in a roof replacement if your shingles are falling off in droves!

Moss and Algae
As we noted in one of our blog posts, moss and algae are primarily a cosmetic issue. While it can be unsightly to have a creeping spot of green moss on your roof, it's not an indication that there's anything structurally wrong with your roof. Many homeowners try to scrape moss and algae from their shingles, but this will actually remove the granules from your shingles. If you live in a neighborhood governed by a homeowner association or if you plan on selling your home in the near future, investing in a new, moss- and algae-free roof is a great way to ensure that your home stays attractive from the curb.
Sagging
Unlike the previous point, a sagging roof should set off your alarm bells. A sagging roof is indicative of a serious structural problem in your home, and even if your roof isn't in danger of immediate collapse, you should always call a qualified expert to inspect a sagging roof.
Leaks
Leaks are indicative of weak spots in your shingles, underlayment, flashing, or a combination of all three. Leaks can certainly be annoying to deal with, but they are cause for concern due to the possibility of mold and mildew developing. In addition to being a health hazard, mold and mildew can both contribute to structural damage in your home. The last thing you want to do is pay for an expensive mold remediation service, so consider replacing your roof if you discover that several areas are leaking.
Are Your Gutters Harming Your Roof?
If you're thinking about investing in a roof replacement, then you should also be considering the health of your gutters. While your roof and your gutters are often thought of as distinct from one another, they influence each other in important ways. Gutters are best thought of as an extension of your roof, and as such, it's important to make sure that they're well-maintained. Gutters that haven't been cleaned for several months are likely becoming clogged with leaves and other debris, and this can create a damaging downward pull on the edge of your roof.
The main function of your gutters is to divert water away from your home. When your gutters become clogged and unable to divert water away from your roof, stagnant pools of water can collect and harm your roof by creating the ideal conditions for mold growth and rot. If you're wondering about the health of your gutters, just call one of our gutter experts for an inspection!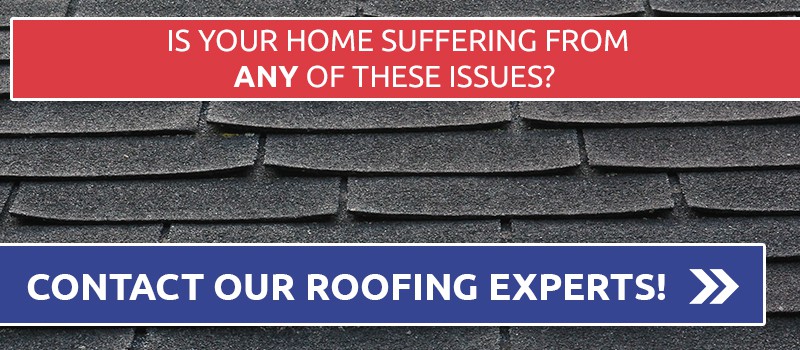 A Roof Replacement Is a Great Investment
Whenever you're considering taking on a home renovation, your first concern is probably how much the services will cost. At Blue Springs Siding and Windows, we understand that it can often seem financially daunting to take on a large project, especially if you find yourself unexpectedly having to purchase a new roof. However, numerous studies and analyses have shown that roof replacements deliver a fantastic return on investment, or ROI.
Let's start with a recent report from REALTOR® Magazine as an example. While the study found that interior renovations increased the participants' enjoyment of their homes more than exterior renovations, the study also found that roof replacements provided homeowners with the best ROI. In fact, if a roof installation will cost you $7,600, you can expect the new roof to add $7,980 to your home's value — that's a 105-percent return on your investment! Whether you're beginning to renovate your home from the outside in or you're making a few strategic investments before putting it on the market, there's no debating the fact that roof replacements are a sound investment.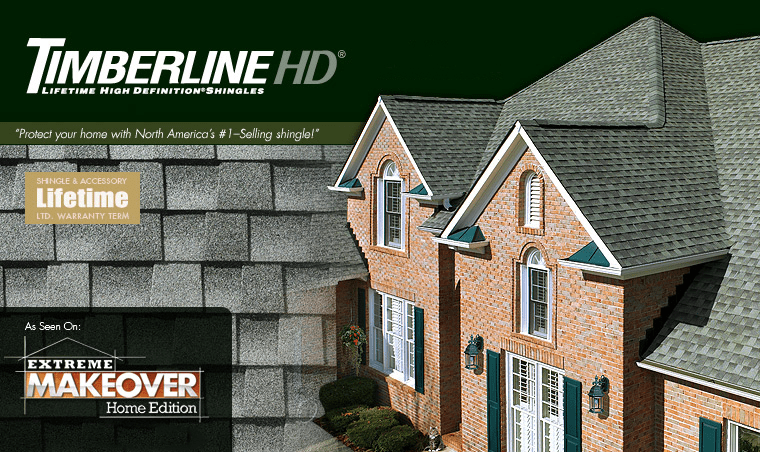 Why Choose Blue Springs Siding and Windows?
Your New Roof Will Be Installed Properly
At Blue Springs Siding and Windows, we don't settle for anything less than perfection. Whether we're helping you outfit your home with beautiful new windows or we're performing a roof installation, we treat every home we work on like its our own. Our roof contractors are experts who stay up-to-date on the latest trends and technological developments impacting the roofing industry to ensure that you get the best roof available. When we provide you with a roof replacement, we'll make sure every detail is correct. Even if you don't know your underlayment from your flashing, you can sleep soundly knowing that the roof over your head will hold up to everything the elements can throw at it.
Lifetime Guarantee
No matter what we're helping our customers with — from siding installation and sunrooms to replacement windows and door installations — we use only the best materials in the industry for the homes we work on, and our commitment to quality is no different when it comes to our roofing services. With an ironclad warranty that says we'll stand behind your roof for life, we can't afford to use inferior products.
Do you need help patching a small leak in your roof? Are you considering investing in a complete roof replacement? Or, perhaps you've heard about our amazing Gutter Defender leafless gutter guard system? No matter what your needs are, you can be sure that the work our roofing and gutter experts do will last you for years to come — no one else in the Kansas City area can make that kind of guarantee!
At Blue Springs Siding and Windows, we'll provide you with a free consultation on your roof replacement and show you exactly what to expect. When you choose our roofing services, you're choosing confidence from the initial installation to our industry-best warranty. Much like your roof, Blue Springs Siding has your house covered. For a free roof replacement consultation with Blue Springs Siding and Windows, please call our roof contractors at 816-228-5225 or get in touch with us through our website. We look forward to working with you!5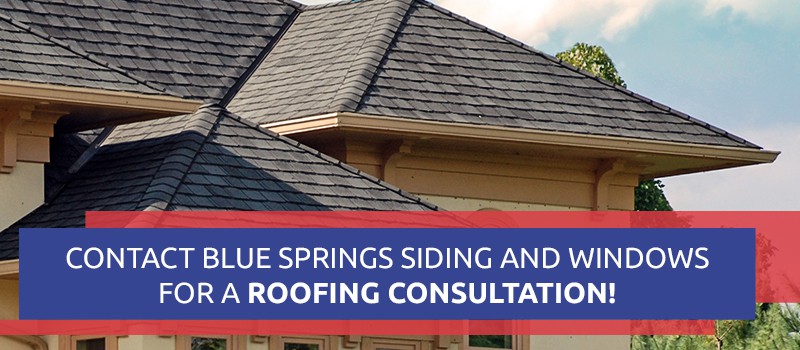 Maintaining Your New Roof
After we've provided you with a roof installation, it's important that you take steps to care for your investment. We previously noted that a typical roof will last between 20 and 30 years, and with the proper care, you can increase the chances of your roof lasting for the next three decades. Here are just a few tips for making the most of your new roof:
Cleaning
As residents of the Kansas City area, we know how dynamic and harsh the weather can be at times. Between wind, rain, and the trees around your home, your roof is probably becoming dirtier and dirtier every year. Clean any debris that has fallen on your roof, as leaves and branches can easily clog your gutters and contribute to mold growth on your roof. You can use your hands, a leaf blower, or a broom to brush debris off your roof. Make sure that you clean your roof gently, as you don't want to damage your shingles' granules.
Trim Your Trees
Taking care of the trees around your property is one of the best ways to maintain your roof. We mentioned above that clogged gutters can create a damaging pull on your roof, and keeping the trees around your home trimmed can prevent leaves from accumulating on your roof and making their way into the gutter. Additionally, the wind in the Kansas City area can often break sturdy branches, and the last thing you want to deal with is a hole in your new roof. We recommend that all branches are at least ten feet away from your roof, though more distance is desirable.
Blue Springs Siding and Windows is proud to provide Kansas City and the surrounding areas with exceptional roof installations and replacements. If you have any questions about your roof, don't hesitate to contact our roof contractors for more information!

Looking to increase the value of your home? Perhaps ready to take on that next DIY project? When it comes to deciding which home improvement project to take on, there are a few different factors to consider. So to help, here's our list of the home improvement projects with the…
Read More
Sign Up For Our Newsletter!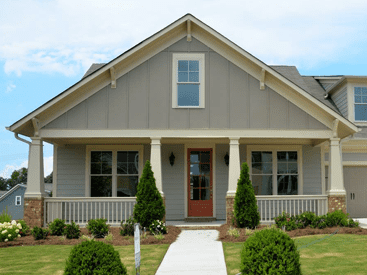 No matter which kind of home siding you choose, it's covered for life! How can we make a promise like that? Simple – we only install high-quality products that will live up to their promises and our high standards.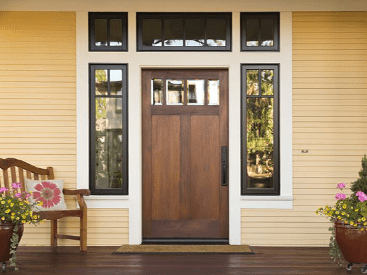 Getting a door replacement has never been easier. From the showroom to your updated home, we handle all the steps in between. We can help you decide which door styles, colors, and materials are right for you and your home.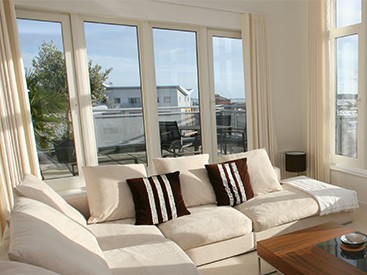 Offering a lifetime warranty on parts and labor, we know the products we use are the best in their class, and we know our window contractors will install them properly so they last for years. Our emphasis is, and always will be, on quality.