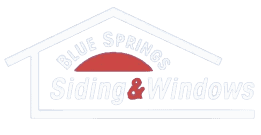 The Best Products & Installation... Guaranteed!
Top Kansas City Roofing Comany
If you've considered outfitting your home with a new roof, you won't find a better company for the job than Blue Springs Siding and Windows. We've been a leader in residential roofing replacement in the Kansas City area for more than 15 years. Homeowners trust our roofing services because we have a reputation for using the best materials and ensuring excellent installation. When you combine these two ingredients, you get the most solid, dependable roof for your money. Whether your current roof has seen better days or you're seeking to increase the overall value of your home, a replacement roof will do wonders for your home. Are you ready to get started?
---
The Components of a Great Roof
While roofs may appear to be a simple, single layer, they're actually quite complex. The primary function of a roof is to protect your home from the elements, but a quality roof will also provide your home with superior insulation.
Roofs are constructed using the following elements:
Underlayment: If you've ever seen a roof being installed, you may have noticed a layer of dark paper covering the wooden structure below — this is the underlayment. Underlayment is typically combined with a waterproof sealant to provide your home with an extra layer of protection from water and wind.
Flashing: While your roof's underlayment provides an effective barrier between your home and the elements, additional protection is needed to prevent water damage during heavy downpours. Flashing is generally made of sheet metal or hard plastic, though other materials can be used. In general, you'll find flashing around the bases of chimneys, along the edges of windows and skylights, around vents, and in the valleys of your roof. Water can creep in through small crevices and openings in your roof, but flashing provides your home with an extra layer of protection.
Shingles: Shingles are the component of your roof that you're probably the most familiar with. Sitting directly on top of the underlayment, shingles are your home's first line of defense against wind, rain, hail, and snow. Shingles are generally laid in an overlapping pattern, though other placement styles can be used to achieve a unique look.
Trim: Your trim is one element you may have chosen to change once or twice while painting your home. Your trim adds an accent to your roof that can make your home stand out from others in the neighborhood. In addition to looking great, trim provides a layer of protection anywhere that your roof has a seam.


A Roof Replacement Is a Great Investment
Whenever you're considering taking on a home renovation, your first concern is probably how much the services will cost. At Blue Springs Siding and Windows, we understand that it can often seem financially daunting to take on a large project, especially if you find yourself unexpectedly having to purchase a new roof. However, numerous studies and analyses have shown that roof replacements deliver a fantastic return on investment, or ROI.
Let's start with a report from REALTOR® Magazine as an example. While the study found that interior renovations increased the participants' enjoyment of their homes more than exterior renovations, the study also found that roof replacements provided homeowners with the best ROI. In fact, if a roof installation will cost you $7,600, you can expect the new roof to add $7,980 to your home's value — that's a 105-percent return on your investment! Whether you're beginning to renovate your home from the outside in or you're making a few strategic investments before putting it on the market, there's no debating the fact that roof replacements are a sound investment.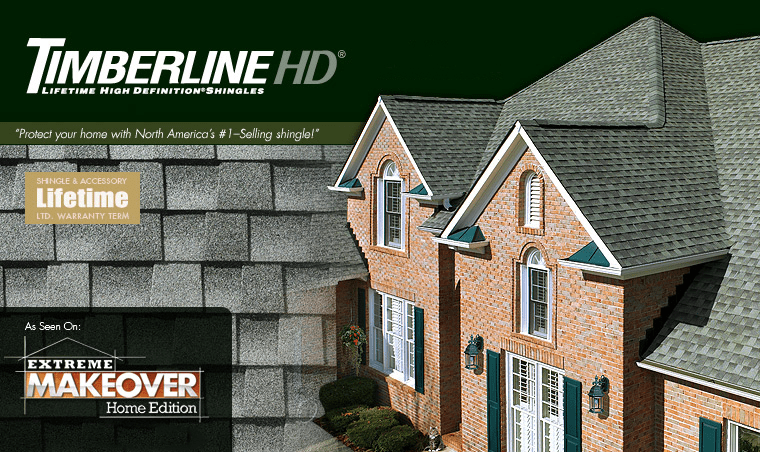 Why Choose Blue Springs Siding and Windows?
Your New Roof Will Be Installed Properly
At Blue Springs Siding and Windows, we don't settle for anything less than perfection. Whether we're helping you outfit your home with beautiful new windows or we're performing a roof installation, we treat every home we work on like its our own. Our roof contractors are experts who stay up-to-date on the latest trends and technological developments impacting the roofing industry to ensure that you get the best roof available. When we provide you with a roof replacement, we'll make sure every detail is correct. Even if you don't know your underlayment from your flashing, you can sleep soundly knowing that the roof over your head will hold up to everything the elements can throw at it.
Lifetime Guarantee
No matter what we're helping our customers with — from siding installation and sunrooms to replacement windows and door installations — we use only the best materials in the industry for the homes we work on, and our commitment to quality is no different when it comes to our roofing services. With an ironclad warranty that says we'll stand behind your roof for life, we can't afford to use inferior products.
Do you need help patching a small leak in your roof? Are you considering investing in a complete roof replacement? Or, perhaps you've heard about our amazing Gutter Defender leafless gutter guard system? No matter what your needs are, you can be sure that the work our roofing and gutter experts do will last you for years to come — no one else in the Kansas City area can make that kind of guarantee!
At Blue Springs Siding and Windows, we'll provide you with a free consultation on your roof replacement and show you exactly what to expect. When you choose our roofing services, you're choosing confidence from the initial installation to our industry-best warranty. Much like your roof, Blue Springs Siding has your house covered. For a free roof replacement consultation with Blue Springs Siding and Windows, please call our roof contractors at 816-228-5225 or get in touch with us through our website. We look forward to working with you!5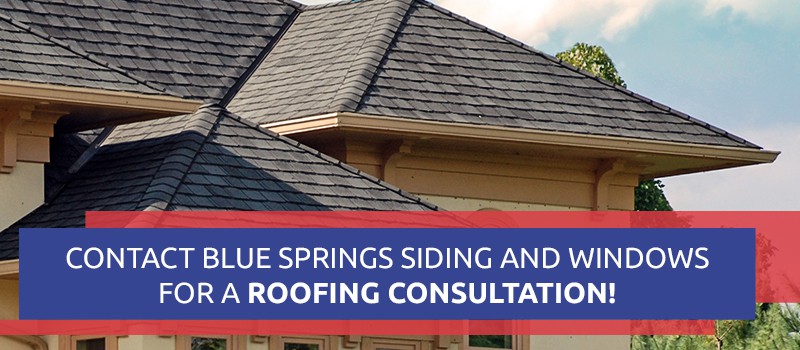 Maintaining Your New Roof
After we've provided you with a roof installation, it's important that you take steps to care for your investment. We previously noted that a typical roof will last between 20 and 30 years, and with the proper care, you can increase the chances of your roof lasting for the next three decades. Here are just a few tips for making the most of your new roof:
Cleaning
As residents of the Kansas City area, we know how dynamic and harsh the weather can be at times. Between wind, rain, and the trees around your home, your roof is probably becoming dirtier and dirtier every year. Clean any debris that has fallen on your roof, as leaves and branches can easily clog your gutters and contribute to mold growth on your roof. You can use your hands, a leaf blower, or a broom to brush debris off your roof. Make sure that you clean your roof gently, as you don't want to damage your shingles' granules.
Trim Your Trees
Taking care of the trees around your property is one of the best ways to maintain your roof. We mentioned above that clogged gutters can create a damaging pull on your roof, and keeping the trees around your home trimmed can prevent leaves from accumulating on your roof and making their way into the gutter. Additionally, the wind in the Kansas City area can often break sturdy branches, and the last thing you want to deal with is a hole in your new roof. We recommend that all branches are at least ten feet away from your roof, though more distance is desirable.
Blue Springs Siding and Windows is proud to provide Kansas City and the surrounding areas with exceptional roof installations and replacements. If you have any questions about your roof, don't hesitate to contact our roof contractors for more information!

Choosing the Right Replacement Siding There are several factors to think about when choosing the materials for your home's exterior. What will match your home's existing exterior design? Are there cost-effective siding options out there? Which siding option needs the least amount of maintenance? How long does siding installation take?…
Read More
Sign Up For Our Newsletter!