The Best Sliding Doors in Kansas City
Functional. Stylish. Efficient.
Sliding doors are a beautiful addition to any home. In addition to their unique and sophisticated appearance, they can boost your home's efficiency and help you reduce your lighting costs. At Blue Springs Siding and Windows, we carry a wide variety of sliding door styles and customization options that allow you to create the ideal door for your home. Continue reading below to learn more about the benefits of sliding doors, and get in touch with Blue Springs Siding and Windows today for a free, no-obligation estimate for your home!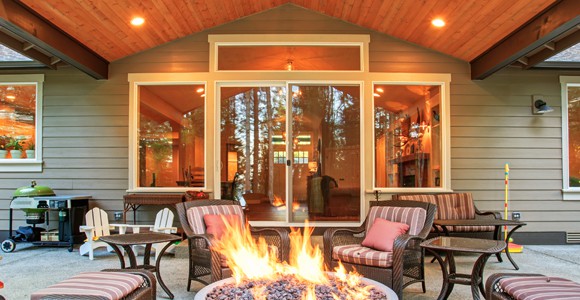 You'll Love The Beauty And Functionality A Sliding Glass Door Adds To Your Home! Sliding Doors:
Create a seamless transition between your indoor and outdoor spaces

Require no extra space to open or close

Fill your home with ample amounts of sunlight

Improve your home's insulation

Provide you with an unobstructed view of the area surrounding your home
At Blue Springs Siding and Windows, we know that dealing with a broken or defective sliding glass door can be incredibly frustrating. We believe that you deserve a sliding door that is as functional as it is beautiful, and we also believe that it shouldn't cost you an arm and a leg to get one. Blue Springs Siding and Windows has the door installation experts and experience required to get the job done right the first time. If your existing sliding door's glass has been broken, or if it just won't slide as easily as it used to, then our professionals can replace your door in no time!
If you're tired of fighting your old sliding door, then call Blue Springs Siding and Windows. We will replace it with a Kingsroyal Glide sliding door, one of the best sliding door manufacturers in the industry. With a variety of local service areas, you can make your home everything you'd like it to be with a Kingsroyal Glide replacement sliding door.
We Stand Behind Our Sliding Doors
Why choose us as your sliding door replacement company? We don't mean to brag, but quite simply, we're the best! We start with the best products and we hire talented and experienced technicians to install them. We are known in and around Kansas City for our door installations, and we're confident that you'll be impressed with our service. In fact, we're so confident in your satisfaction that we offer a lifetime warranty on all parts and labor involved in your purchase. We don't expect that you'll have problems after the installation is complete, but if you do, we'll be there as soon as possible to make things right.

Why You'll Love A Sliding Glass Door
Many Kansas City homeowners like sliding doors for their homes because they act as a window that allows natural light to fill adjacent rooms. Along with the advantage of providing you with more natural light, sliding doors also deliver a better view of the surrounding areas. You can see outdoor spaces like gardens, pools, patios, and landscaping, all from the comfort of your home. We like to think of sliding doors as practical, picturesque windows that move.
Another distinct advantage of installing sliding doors is that they don't take up any additional space in your home. In smaller rooms, you may not want to compromise square footage to allow a swinging door to open and close. When you contact us for a sliding door installation, you'll be able to put furniture or décor in front of a sliding glass door without worrying about compromising the door's movement or functionality.
Kings Royal Sliding Doors: The Best In The Business
Kings Royal doors are solid, reliable, and beautiful. They are made using the finest materials and hardware available, and they utilize the most advanced equipment and technology on today's market. They are airtight, energy-efficient, stylish, and reinforced for safety. In other words, when you choose to work with Blue Springs Siding and Windows, you're choosing to make an investment in your home using the best products on the market. Period.
For a free sliding door installation consultation with Blue Springs Siding and Windows, please call our office or get in touch with us using our contact form.
We look forward to speaking with you!