When your door's life has run its course, don't be afraid to replace it. With an ROI of at least 60%, new doors are a safe investment. They're also a cost-effective way to increase your home's value, aesthetic, energy efficiency, and safety. But don't replace it with just any old door. Make sure you're replacing it with a door of quality. Here at Blue Springs Siding & Windows, we only carry the best in the business. Here's our guide to finding the perfect replacement door for your Kansas City home.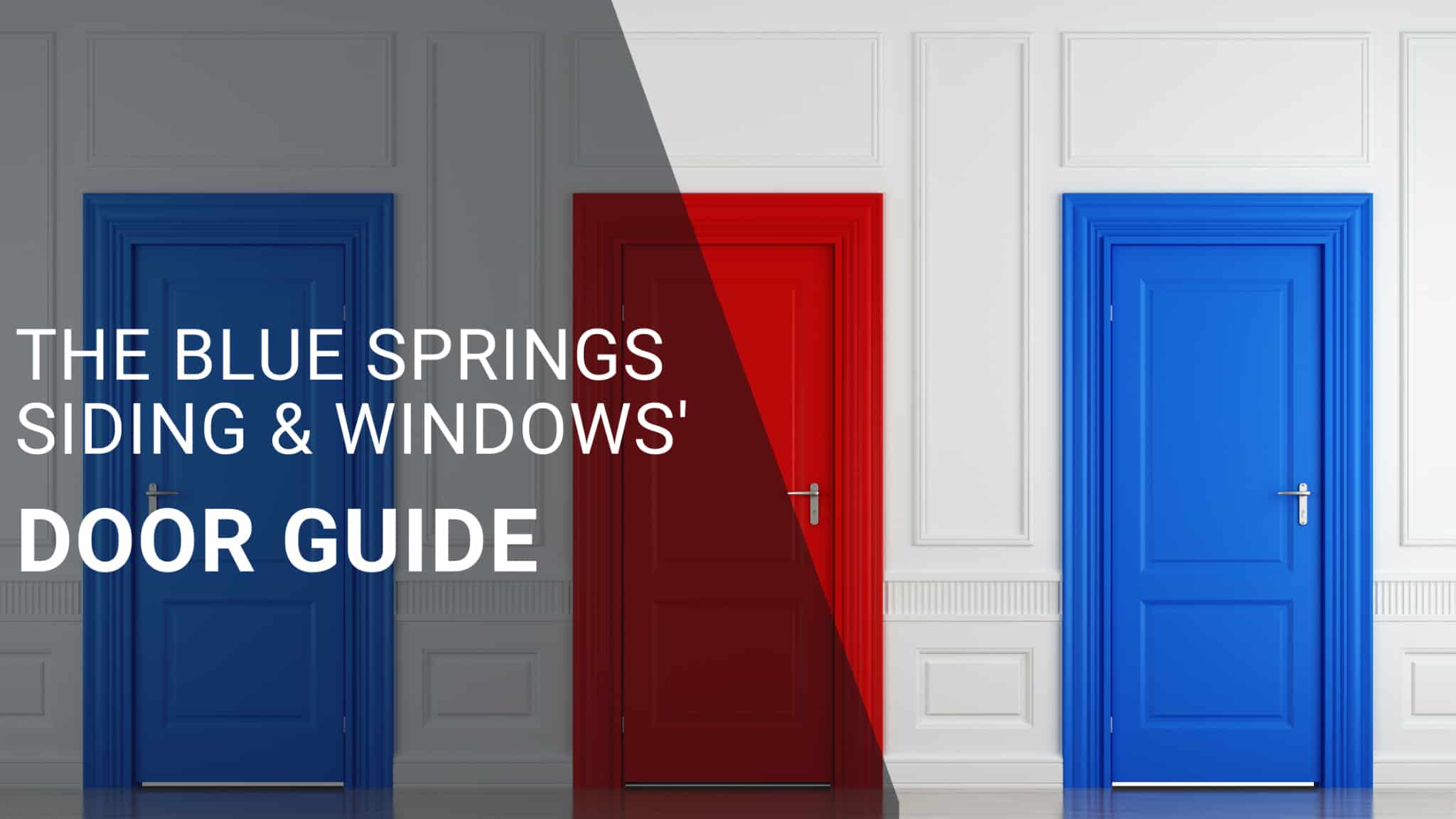 Determine Which Door Needs Replacing
There are several sure-fire ways to determine whether or not your door needs replacing. First, think back and ask yourself how old your doors are. If they are over 20 years old, you won't need to do an inspection. We recommend you replace those doors regardless of condition because new door technology has come a long way in increasing your home's safety and energy efficiency.
If your doors are a bit younger, ask yourself the following questions:
Are there cracks or gaps between the door and the frame? If so, thermal retention and air infiltration rates go down while energy bills go up. Water and bugs get into the home via these gaps causing costly damage to the house.

Is any part of the door or frame bowing or bending? If so, the door's structural integrity could be compromised.

Do they open, close, and lock properly? If they don't, your door most likely won't be able to protect against the elements or break-ins effectively.
Choose Your Door Installation Company
Putting in a new door takes a little more skill than one might think, specifically if the frame is damaged. Instead of trying it on your own or hiring the first company you find online, consider Blue Springs' Siding and Windows. While "door" isn't in our name, you can expect the same expertise, high-quality materials, and expert technicians we provide for siding and window installation. Every door installation must pass high-quality standards and comes with a lifetime warranty.
Our Brands
Blue Springs Siding and Windows is proud to carry the best ENERGY STAR rated and NFRC certified brands, so you know you're covered from every angle. 
SoftLite 
SoftLite's fiberglass and vinyl doors are a safe, beautiful, and durable option for any home. These doors will undoubtedly stand up against the elements and look good while doing it. SoftLite offers a massive selection of door configurations, colors, handle and locking systems, decorative glass designs, side lite options, and more. They are specially engineered to fit perfectly into the space, eliminating costly drafts and ensuring comfort for years to come.
ProVia
ProVia's fiberglass and steel doors are attractive, dependable doors that will increase your overall curb appeal. They are hard to dent or scratch hold up against just about anything, whether hail or an excited pet. ProVia also offers realistic wood grain in cherry, mahogany, fir, and more without the difficult upkeep of wooden doors. Homeowners can also choose from a myriad of glass designs and stunning grid options. Beyond design, ProVia's doors are hardworking and energy-efficient that won't disappoint.
New Doors In the Kansas City Area
Homeowners in this area need doors tough enough to stand against harsh winters and humid, stormy summers. So, don't wait until your doors are falling off their hinges to replace. Blue Springs Siding and Windows offers
Quality Entry Doors

Strong Storm Doors

Customizable Patio and Sliding doors

Classic French Doors.
No matter your taste, style, or budget, we are here to help.