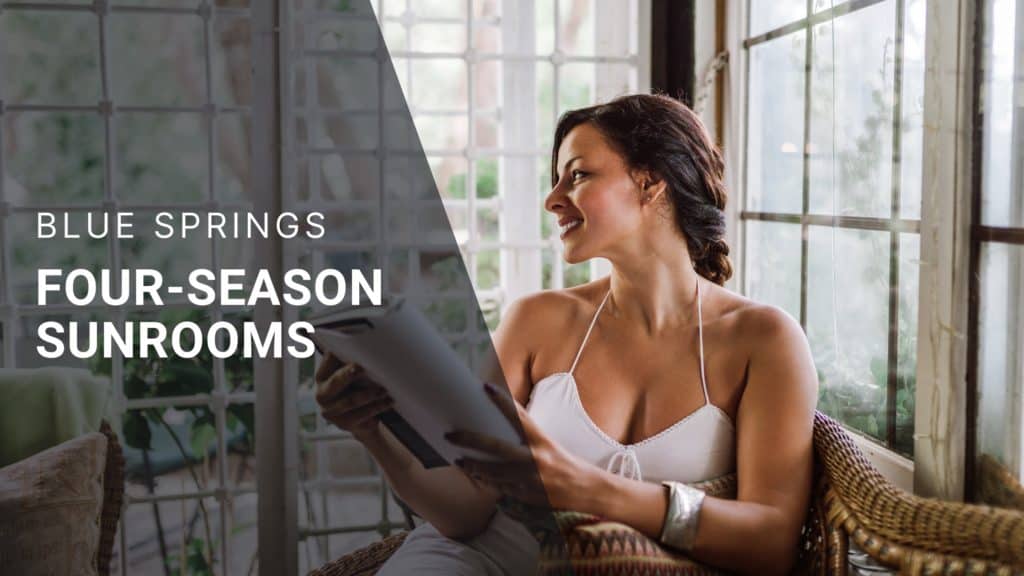 If you have ever daydreamed about having a light, airy room with breathtaking views of the outside, consider adding a 4 season sunroom. They are a great way to increase your home's footprint without breaking the bank while also providing a comfortable space designed for year round enjoyment.
What is a 4 Seasons Sunroom?
A 4 season sunroom is an enclosed space with floor-to-ceiling windows for an unobstructed view of the outdoors. As its name suggests, a 4-season sunroom is built to be used no matter the temperature and weather conditions. They are constructed to stand the test of time and insulated for your comfort.
What Type of Sunrooms does Blue Springs Install?
Blue Springs Siding and Windows is the only sunroom dealer within 50 miles of Kansas City to offer sunrooms from Crown Windows & Sunrooms, the only composite sunroom manufacturer in the country.
Why Blue Springs Offers Kansas City Homeowners Sunrooms from Crown Windows & Sunrooms
With over 20 years in the business, we've come across quite a few different sunroom companies. This, however, remains a favorite and is the only sunroom we offer because of its superior construction and affordability.
Vinyl Composite Walls
Their walls are created with an exclusive vinyl composite that has been nationally recognized for innovation. They provide extra thermal efficiency and structural integrity, all while being aesthetically pleasing.
Snap-Lock Roofing System
These heavy-duty panels are made of high-density foam in variable thickness and resist surface damage. Customers also have a choice between gable or studio roof style allowing for maximized customization. Gutter and downspouts are also included to ensure proper drainage.
Superior Poly Decking
Crown's decking allows us to construct the sunroom without additional foundation work, which significantly cuts down the cost and shortens the installation timeline. It is strong but also extremely comfortable and customers get to choose the surface flooring.
Built-In-Electric Paths
These hidden pathways eliminate the need to cut additional holes for electrical wiring.
Energy-Star Rated Windows
Our sunrooms meet all the standards set by Energy Star, the National Fenestration Rating Council (NFRC), American Architectural Manufacturers Association (AAMA), and the National Sunroom Association (NSA).

Benefits of a 4 Season Sunroom
Design
Sunrooms provide an unparalleled view nature with crystal clear picture windows spanning from the ceiling from the floor. Customers can also choose the exterior color, white, almond, or clay, along with their ideal flooring. Designing a new room is one of the most exciting parts of a sunroom install.
Extra Space
Sunrooms offer an attractive open space perfect for just about anything; office, living space, indoor gardening, gym, and more. Extra square footage is also appealing to buyers should you ever choose to sell your home.
ROI
According to Home Advisor, a sunroom can bring in a 49% Return on Investment, increasing the house's value by half the cost of the room.
Energy Efficiency
Believe it or not, a sunroom can help lower heating and cooling costs. The additional sunlight from those energy-efficient floor to ceiling windows and added insulation really makes a difference.
Why Choose Blue Springs for Your Sunroom?
Quality Work with a Focus on Customer Experience
We take pride in a job well done and use only the best materials in the industry. As homeowners ourselves, we started this company with the goal to provide our customers with the same care and attention we would give ourselves.
Lifetime Warranty
We stand by our work and won't hesitate to fix a mistake, no matter how small. We want our lifetime warranty to give homeowners peace of mind and the confidence needed when making the decision to invest in their home.
Install Speed
This system is prefabricated, meaning the pieces are built offsite and put together on site. This allows us to construct an entirely new room in a relatively short amount of time.
Ready to Start Enjoying the Views?
If you would like to learn more or schedule a free estimate, please contact us today. We can't wait to start working with you to transform your home.