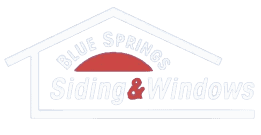 The Best Products & Installation… Guaranteed!
Contact Us Today For A Free Estimate!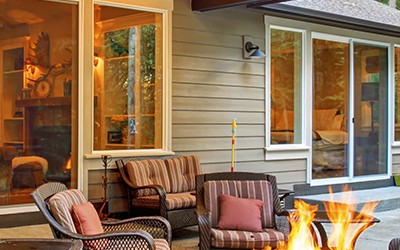 Windows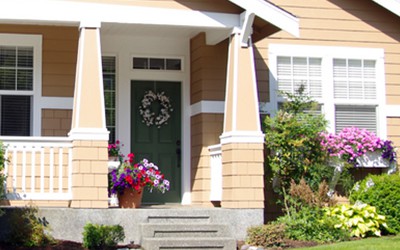 Siding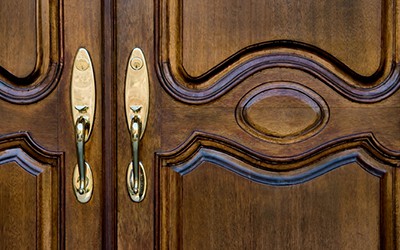 Doors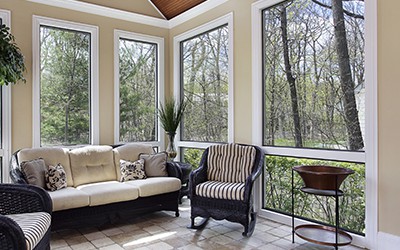 Sunrooms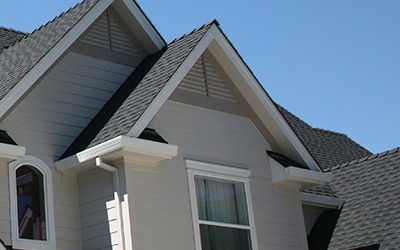 Roofing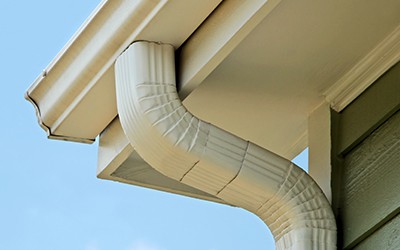 Gutters
Independence Services
Blue Springs Siding and Windows is proud to be Independence's Top Rated Local® home improvement company. We know that it's important to purchase quality products and to hire talented contractors and when making an investment in your home. At Blue Springs Siding and Windows, we carry the best windows, doors, home siding options, and gutter products the home renovation industry has to offer. We are proud to boast an A+ rating with the Better Business Bureau, and our testimonials certainly speak for themselves. We offer lifetime guarantees on our products and installation services, giving you the peace of mind that comes from knowing your investment is protected.
Are you ready to improve your home? Contact Blue Springs Siding and Windows now to get request a free estimate!
---

Windows
Investing in new replacement windows is one of the best ways to improve the look and feel of your Independence home. At Blue Springs Siding and Windows, we offer a variety of windows that can transform your home into a welcome and opening space. Finding the right windows for your home can be difficult, but our window installation experts can help you find a window that suits your needs and fits your budget. Come by our showroom in Blue Springs or read on to learn about our replacement window options!
Siding
Blue Springs Siding and Windows is Independence's Top Rated Local® siding company. Siding is one of the smartest home investments you can make, providing you with one of the best return on investment rates (ROI). In addition to significantly increasing your home's curb appeal, a siding installation is likely to improve your energy efficiency and lead to lower utility bills.
We carry the most reliable siding brands in the industry, and our siding options are available in a wide variety of colors. No matter which home siding option you choose, Blue Springs Siding and Windows will cover the products and services you purchase for life. If you're not sure about which siding option would be best for your home, just come by our showroom located in Blue Springs to speak with one of our siding contractors.
Doors
Blue Springs Siding and Windows is your go-to resource for door installations in Independence and the surrounding areas. From helping you pick out the perfect door in our showroom to the installation itself, we make it effortless and affordable to outfit your home with a beautiful new door.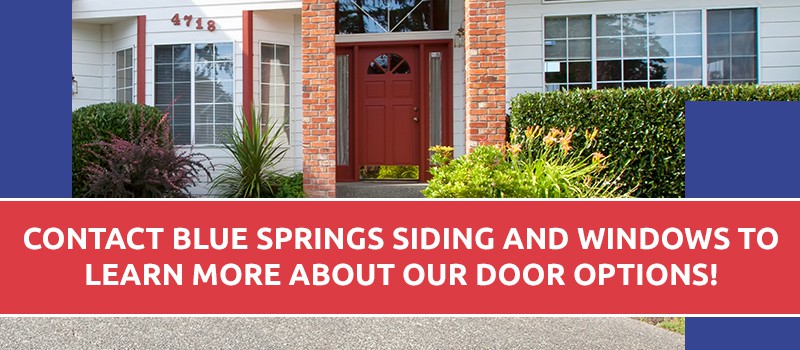 ---
Sunrooms
Adding a sunroom to your home is a fantastic way to increase your home's overall value while also creating a beautiful and enjoyable space for you, your family, and your guests. At Blue Springs Siding and Windows, we're proud to offer sunroom installations using products from Crown Windows & Sunrooms, a premier sunroom material manufacturer based in the United States. Composite sunrooms provide a number of advantages over other kinds of sunrooms, including full-window capabilities. Our sunrooms allow for glass panels that extend from the ceiling to floor, delivering a full, uninterrupted view of your outdoor space. The materials we use are also incredibly versatile and can be matched to your home's exterior, making the sunroom look like a natural part of your home.
In addition to providing you with a tranquil space in which you can enjoy the sunshine and the best aspects of the outdoors from the comfort of your own home, a sunroom installation will do wonders for your energy bill. Just like a high-quality window in your living room, a sunroom will provide your home with a natural source of light that can also heat your home naturally during the winter. Some homeowners are concerned that a sunroom installation will lead to energy leaks, but our sunrooms exceed the quality-control standards set by the following agencies:
National Sunroom Association (NSA)
Energy Star
National Fenestration Rating Council (NFRC)
American Architectural Manufacturers Association (AAMA)
Whether you're hoping to create a quiet place in which you can read in the mornings or you're wanting to create a year-round entertainment space, we know that you'll be happy that you made the decision to add a sunroom to your home. Our sunrooms come with a lifetime warranty, so come by our showroom to speak to one of experts!
Roofing
While it can be easy to forget about, your home's roof is easily one of the most important components of your home. You've invested in beautiful furniture, artwork, and flooring, and your roof protects all of your belongings from the elements. A leak or weak spot in your roof can lead to water damage and rot, so it's crucial that your roof is able to withstand the Midwestern weather. No matter how well your current roof is holding up, you should be thinking about a roof replacement when your roof is around 20 years old. While well-maintained roofs can last for up to 30 years, it's better to prepare to make an investment starting at the beginning of year 20. You should also consider a roof replacement if your roof is missing a significant number of singles, sagging, or has been covered by unsightly moss.
At Blue Springs Siding and Windows, we know how important it is to have a quality roof over your head, and our roof replacement services have delivered peace of mind to hundreds of residents in Independence and the nearby areas. With an industry-leading lifetime guarantee on all of our roofing services and products, you can invest in your home knowing that we'll be standing by your side for life.
Gutters
Your home's gutters are an extension of your roof. Their job is to divert water off of your roof and away from your home, preventing water damage to your foundation and structure. If you've ever spent a beautiful weekend morning cleaning leaves, dirt, pine needles, or some other form of debris out of your gutters, then you've probably wondered if there's a better way to approach gutter maintenance.
At Blue Springs Siding and Windows, we believe that your gutters shouldn't take time away from your friends and family. Our Gutter Defender product uses a patented nose-forward design to prevent anything except water from flowing into your gutters. Just like our door, roof, and window installations, our gutter services and products come with a lifetime guarantee. Don't wait until your gutters are sagging and clogged to invest in gutter guards — call Blue Springs Siding and Windows today to outfit your home with superior gutter protection!
Blue Springs Siding and Windows is Independence's top resource for windows, siding, doors, sunrooms, and more. We offer flexible financing options to qualifying customers that can help you purchase the services and products you need, so don't wait to get in touch with us about your home renovation ideas! Our showroom is located on I-70 between Woods Chapel Road and Highway 7 in Blue Springs. We look forward to seeing you soon.

Sign Up For Our Newsletter!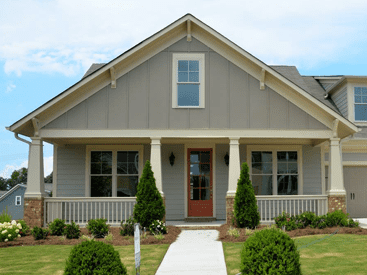 Siding
No matter which kind of home siding you choose, it's covered for life! How can we make a promise like that? Simple – we only install high-quality products that will live up to their promises and our high standards.
MORE ABOUT SIDING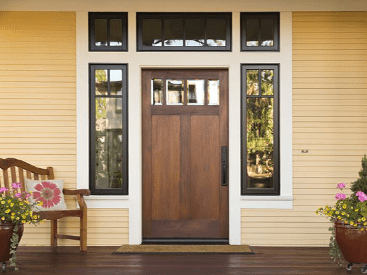 Doors
Getting a door replacement has never been easier. From the showroom to your updated home, we handle all the steps in between. We can help you decide which door styles, colors, and materials are right for you and your home.
MORE ABOUT DOORS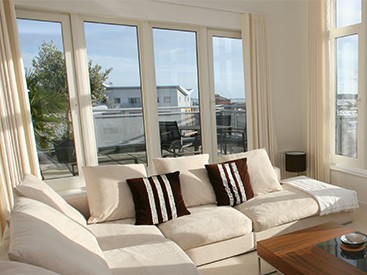 Windows
Offering a lifetime warranty on parts and labor, we know the products we use are the best in their class, and we know our window contractors will install them properly so they last for years. Our emphasis is, and always will be, on quality.
Top Brands We Carry