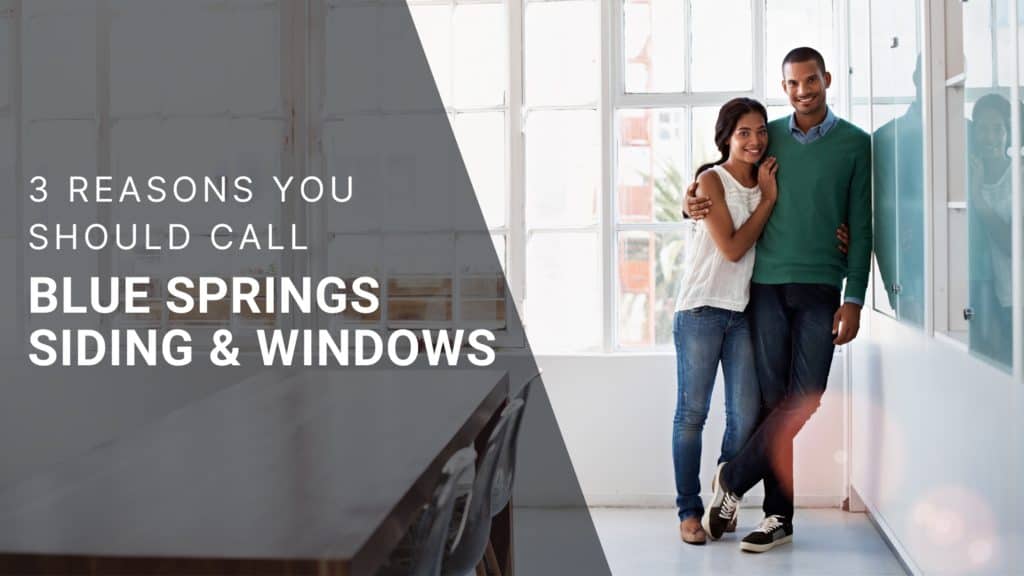 Blue Springs Siding & Windows has been providing quality home improvement products and services for more than a decade. We pride ourselves on treating our customers with respect and giving them more reasons to trust us rather than the other guys. Here are three reasons you should call us today for all your siding and window needs.
1. Quality Products, Quality Service
SoftLite Windows
One way we keep our customers 100% satisfied is by carrying only the best quality brands. Over the years, Blue Springs Siding and Windows has come into contact with many different window brands. Only one stood up to our impeccable standards: SoftLite Windows & Doors. We've found that their windows offer the best of both worlds- affordable and durable. They're also incredibly energy efficient and visually appealing, which is why we exclusively use them in all our installations.
Exclusive Elements Dealer
Our favorite window from SoftLite is the Elements line. We love it so much that we became the exclusive SoftLite Windows & Doors Elements dealer in the Kansas City area. We are the only trusted licensed dealer in the area, so you can rest assured that we will install your windows with all the correct practices. Elements windows are industry-leading AAMA Gold Label Certified in performance and are also the best NFRC Rated U-factor in the business. Between the fantastic glass technology and weather-stripping, Elements windows help keep your energy bills down with their superior ability to prevent air leakage. Plus, Elements offers one of the best aesthetically appealing options in the industry.
Lifetime Warranty On Parts And Labor
Believe it or not, Blue Springs Siding and Windows is the only window installer in the Kansas City area that offers a complete lifetime warranty on parts and labor. The way we see it? When you carry only the best products, employ only the best people, and value customer service above all else, a non-prorated, lifetime warranty is easy to provide. We cover the entire window and labor costs associated with fixing it. This warranty can also be transferred to the next homeowner, should you sell.
The Owner Inspects Every Job
We have the utmost faith in our installers to get the job done, but, in our eyes, the job isn't complete until our owner, Mike, personally inspects it. He checks for any indiscretions and makes sure the installation and service meet his high standards. Quality customer service is number one here at Blue Springs, so we do everything we can to ensure every job is completed with care.
2. Happy Customers
The Best Customer Service in the Kansas City Area
Many windows and siding companies have come and gone since Blue Springs first started over 20 years ago. What is the secret to our success? It's customer satisfaction! We started this company to provide more than just quality products; We want our customers to feel like family. As proud homeowners ourselves, we put the same amount of energy and care into your home as our own. We appreciate every opportunity we are given to help a family make a house a home. To us, replacing your windows, siding, and doors is more than a job; it's a calling. Don't just take our word for it, though- read what our customers have to say about their Blue Springs Siding & Windows experience!
No Complaints from the BBB
Since we've been on the Better Business Bureau, we have never had a customer complain or leave a bad review. Our pristine company rating with the BBB proves just how serious we are about our products and services.
Top Rated Local® Home Contractors
We take pride in being known around the community as a Top Rated Local® Home Contactor. Out of the reviews posted directly to Top Rated Local®, we have an overall rating of 4.6. This score means a lot to us because it shows that our mission to offer the best quality and care is succeeding.
3. Home Improvement Financing
At Blue Springs Siding and Windows, helping you purchase the products your home needs is our primary focus. We understand that home improvement projects can be costly, especially if multiple jobs need to be done at the same time or close together. Accessibility is everything to us, so we found several ways to help our customers finance their projects. We'll work with your circumstances to find an ideal payment plan for your project.
Check out our financing options
Call Us For Your Next Kansas City Window Installation!
If you're thinking about replacing your windows, you've come to the right place. For a free window installation consultation with Blue Springs Siding and Windows, please call (816) 228-5225 or fill out our contact form below. We can't wait to help you find the perfect windows for your home!