If you're like many homeowners, then you're probably looking for upgrades that will increase your home's value and improve your home's energy efficiency. Many homeowners are investing in window replacements and siding installations in an effort to lower their monthly utility bills and to protect our beautiful environment. In today's post, we'll look at four tips that will help you improve your home's efficiency and help you lower your monthly utility bills.
When you've finished reading this post, be sure to come by the Blue Springs Siding and Windows showroom, or reach out to us by calling 816-228-5225. We know that you want peace of mind when you're investing in your home, so we proudly offer free estimates and lifetime warranties on all of our products and services. We look forward to speaking with you soon!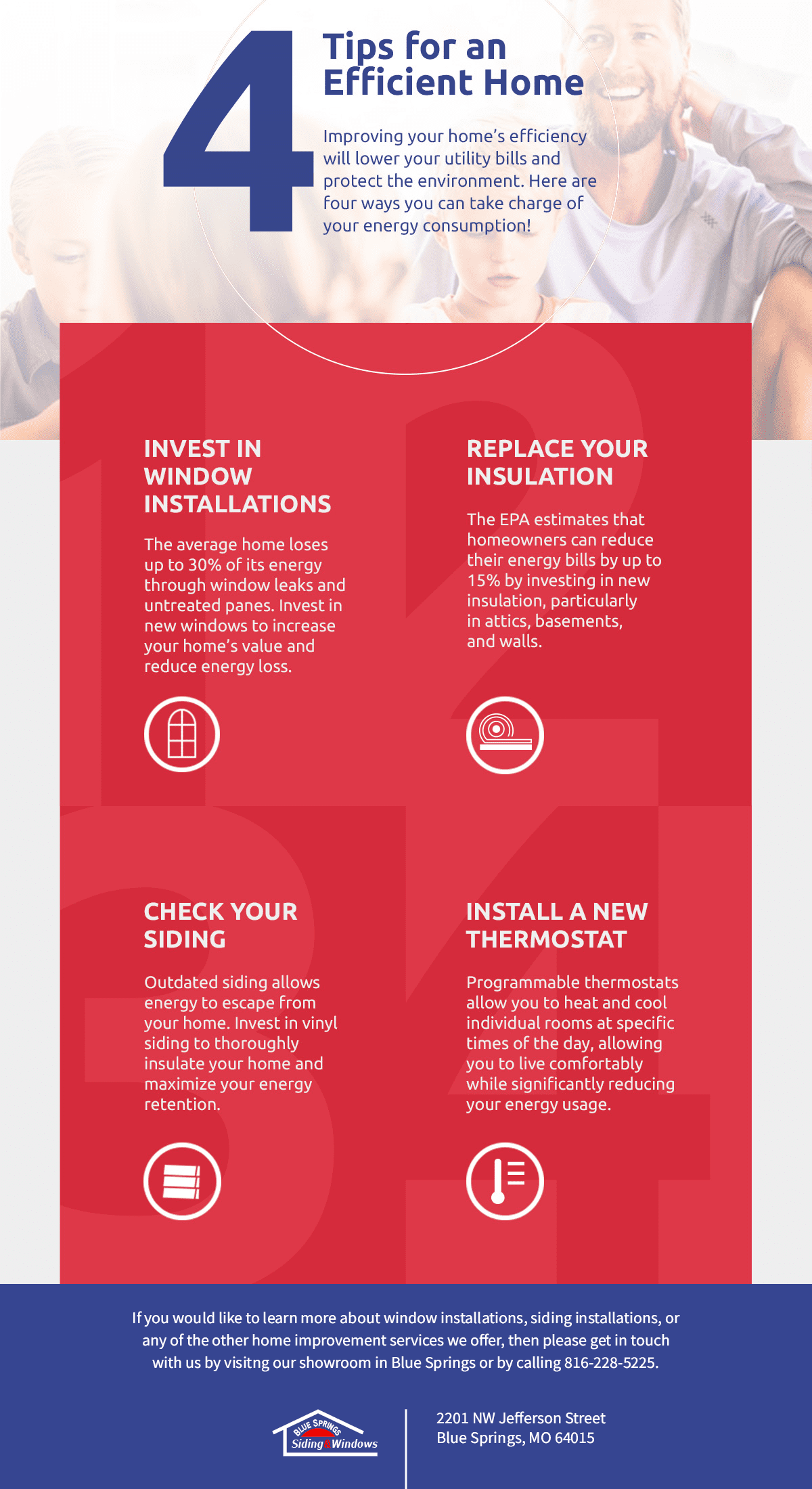 How to Increase Your Home's Energy Efficiency
Invest in Window Installations 
Window replacements are one of the best ways to increase your home's overall value and energy efficiency. As we noted in a previous post, window installations can return up to 78 percent of your initial investment, making them one of the most lucrative home improvement projects. Moreover, your windows could be a primary source of energy loss, as old or outdated windows can allow for both heat gain and heat loss:
Heat gain: Older windows allow unfiltered sunlight to directly enter your home and increase the ambient temperature. This, in turn, causes your HVAC system to work overtime to maintain a stable and comfortable environment, ultimately increasing your home's energy consumption.
Heat loss: If your home is several decades old, or if your windows have been battered by the Midwest weather, then they may be allowing energy to flow out of your home completely unobstructed. Small cracks and openings could be contributing to high utility bills, so check to see if you can feel a draft coming from any of your windows. If you can, then window replacements should be a top priority.
At Blue Springs Siding and Windows, we strive to provide our customers with window installations that are as efficient as they are beautiful. Reach out to us to learn more!
Replace Your Insulation
Many older homes in the Kansas City area were built with outdated insulation, or with no insulation whatsoever. Insulation settles as it ages, potentially causing gaps and weak spots that allow air to flow in and out of your home. You depend on your HVAC system to keep your home warm in the winter and cool in the summer, so make sure that you're getting the most value for your money by thoroughly insulating your home. Your primary areas of concern should be your attic, walls, basement, and crawl space. An energy audit can help you determine where you should be directing your efforts. If you have a home theater in your basement, or if you are considering turning your attic into a guest room or play area, then you'll certainly have to invest in new insulation to keep the spaces comfortable.
Check Your Siding 
Just like your windows, your siding plays an important role in how much energy your home consumes. Your home may have excellent insulation, but wall studs and other structural materials are poor insulators that often remain unaffected by insulation. Hot days and cold nights can allow energy to pass through your studs and raise or lower the temperature in your home, but a siding installation will prevent this process from occurring. Studs account for up to 25 percent of your home's walls, so a siding installation can go a long way toward improving your home's efficiency.
Blue Springs Siding and Windows is a proud provider of vinyl siding installations and James Hardie siding — get in touch with our siding contractors to request an estimate for your home!
Install a New Thermostat
The potential energy savings don't stop once you've invested in a siding installation, window replacements, and insulation. You can think of these improvements as the fundamentals, and there are a number of more advanced improvements you can make once the basics have been addressed. One of the best ways to improve your home's efficiency is to install a programmable thermostat that can heat or cool individual rooms.
Perhaps you have children who have moved away to college, or your home is on the larger side and has several rooms that are only used occasionally. No matter what your situation may be, you don't want to be paying to heat and cool rooms you're not using. A programmable thermostat allows you to control the temperature in individual rooms at specific times, which can greatly reduce the amount of energy you pay for each month. If you work for the majority of the day and don't need your HVAC system running until the evening, then you can program the system to come on just before you pull into the garage. The rooms you use will be comfortable the moment you walk through the door, but you'll be paying a fraction of the cost.
These are just a few of the ways you can improve the energy efficiency in your home. If you would like to learn more about window installations, siding installations, or any of the other services we offer, then please get in touch with us by visiting our showroom in Blue Springs or by filling out the contact form below. We'll gladly help you find the perfect product for your home.