Kansas City summers are hot and wet, while winters are cold and dry with strong winds. With these extreme weather patterns, it's no wonder that homeowners in the Kansas City area want windows, doors, and siding that will provide great insulation, weather protection, and returns through all seasons. If you are looking to replace windows, doors, or siding that can stand the test of Kansas City weather, read on to learn about the best replacement options for your area.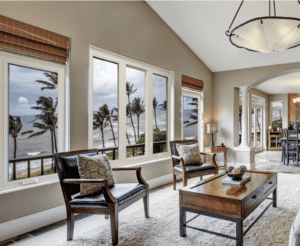 Window Replacement
When it comes to window replacement, there are many different types to choose from, each with their own benefits. Three key factors to consider when weighing window options are the frame material, the glass type, and the frame style.
For colder winters, wood, vinyl, or fiberglass frames provide superior heat retention. Wood is great for insulation, and can come with cladding to ensure protection from the elements. Vinyl windows are insulated to help retain heat, and perform well against wind, rain, and snow. The same can be said for fiberglass windows. Selecting glass packages with double or triple pane glass, or even low-e glass, can also significantly impact insulation and energy efficiency.
The style of the frame can also make a difference in extreme weather conditions. For example, double hung windows come with a fixed separator in the middle, and can slide both up and down. Cold air is able to enter through the bottom, while hot air exits through the opening at the top. This provides a homeowner with control over air ventilation, a nice benefit during those hot summer months. Casement windows, on the other hand, can open either vertically or horizontally, and swing out on a hinge. They perform very well when matched against weather like strong winds and rain.

Replacement Entry Doors
Entry doors are one of the most widely used parts of the home, and as such, can be responsible for a large amount of energy loss. The best door replacements in Kansas City are those that highlight insulation. When choosing a door that will perform equally well in cold winters and hot summers, look for fiberglass, wood, or steel. The ability to trap excess heat helps keep a home cool in the summer and warm in the winter, ensuring a nice, comfortable indoor temperature. Evaluate a door's R-value, or the measurement of how effectively it resists heat transfer, to determine how well a door will maintain home temperatures.
Homeowners should also look for entry doors that are strong and durable, and match up well against wind and moisture. Steel and fiberglass doors are both strong, versatile options that provide superior weather protection.  Weather stripping your replacement entry doors can also provide increased protection against the elements, and ensure your home stays comfortable and dry all year.
Install New Siding
The best siding replacement companies know that good siding goes a long way for a homeowner. In the upper midwest, cold climates create damper weather conditions, so vinyl siding should be one of the first things a homeowner considers. Vinyl siding provides superior insulation abilities, and is known for its durability and effectiveness. Thick, quality vinyl siding can also help a homeowner save money on heating and cooling expenses as well. Vinyl siding is relatively easy to clean, and can often be rinsed off using a basic cleaning solution or power washer. The material is also pest resistant and able to retain its color for years. Fiber cement siding, meanwhile, is graded incredibly high for water resistance, and won't swell or expand. Water resistance is an important quality in the face of the damp, heavy summers of Kansas City. Fiber cement siding is also typically thicker than vinyl siding, which allows it to perform well against elements such as wind, rain, and hail. It's also non-combustible, and will not warp or burn when exposed to extreme heat in the dry summers. Our Prodigy by Alside is made with expanded polystyrene, a lightweight material used to insulate homes. This helps improve heat flow resistance as well as energy efficiency.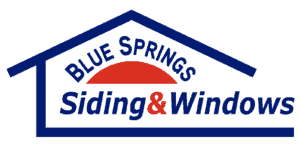 A Trusted Doors, Windows and Siding Company
Are you looking to replace your windows, doors, or siding? Blue Springs Siding and Windows has been providing quality remodeling services to the Kansas City metropolitan area for more than 20 years. We're a company founded on hard work, consistency, efficiency and experience. Read more about our siding installation, or get in touch with us here to get started with a free estimate today.