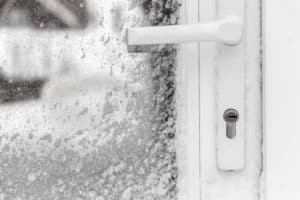 The cold weather, heavy snow, and intense winds that accompany winter will heavily test your windows and doors. As a homeowner, there are a number of steps you can take to prepare. Ultimately the insulation, durability, and efficiency that your windows and entry doors provide during the winter months are crucial. Ensuring that they're proficient in these departments all starts with effective preparation.
How to Prepare your Doors and Windows for Cold Weather
Check Frames
Check the strength, integrity, and consistency of your frames. Ultimately, the frame around your window or door can be just as important as the window or door itself. Look for cracks, bowing, warping, or any discrepancies; a warped, sagging, or worn down frame will ultimately prove inefficient when it comes to insulation.
Furthermore if there is a gap between your window or door frame and the wall, then cold air can get in, increasing the amount of energy needed to keep a home warm. If the gaps are large, or the frame is severely damaged, then normal weather stripping and caulk just won't get it done.
Install Storm Windows
Storm windows are second windows mounted outside the main glass panel. Storm windows can be made from any number of materials, including vinyl, aluminum and glass, and are built to withstand the pressure of wind and elements. They provide an additional layer of insulation as well, helping to ensure monthly heating bills stay low- a point echoed by the U.S. Department of Energy, who's studies indicate that homeowners can expect to save upwards of 33% on monthly heating and cooling costs.
Weatherstrip Doors and Windows
First, check whether gaps, spaces or cracks are visible, and if they are, address them. Utilize a stripping that's made from advanced materials, and ensure it is installed properly to help create a truly airtight seal for your home. If you have already weather-stripped your doors and windows, perform a visual inspection on them and note for any shortcomings.
Caulk
If you notice drafts or intermittent cold spots around your doors and windows, then there are likely cracks or gaps. Apply caulk around the outside of your windows and doors to improve insulation and seal off any gaps where cold air can get in. If you have previously caulked around these areas, check for cracks, scrapes, weather wear and breaks. If you see any, it's time to re-caulk.
Repair Broken Windows and Doors
As seasons change, it's important to evaluate the existing condition of your windows and doors, as well as their performance. Things like high energy bills, noticeable drafts, decaying frames, or moisture build can ultimately be signs that a repair is needed. If energy bills have been high, or insulation is a concern, these issues will be exacerbated in the winter months, as internal heating units chew up electricity to keep pace.
Install Storm Doors
Storm doors improve protection and insulation. They can help preserve the integrity of your existing entry doors, and serve as an additional trap for any heat that leaks out of your home. Selecting a storm door with a high R-Value, low-E glass, argon gas fills, or glazing can also help to keep heating bills low this winter.
Replace Doors and Windows
If your windows and doors are old, outdated, damaged or inefficient, then the winter months could get tough. Ultimately, evolutions in the window and door manufacturing processes have led to improved products. The options, styles, efficiency and durability of the products on the market today far exceed those that were once available to a homeowner. Replacing your doors and windows with newer, efficient products like the ones offered at Blue Springs Siding & Windows, ultimately leaves your home with improved insulation, lower energy bills, and a solid return on investment.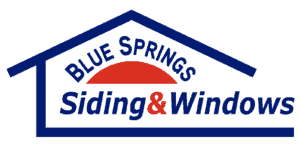 This Winter, Invest in your Windows and Doors 
As a company of homeowners, we understand how much pride and work goes into maintaining and building a home. That's why we strive to offer the highest-grade window and door replacement products in the Kansas City Area. We consistently pair competitive prices with experienced, efficient installation teams. This formula has translated into tens of thousands of happy customers. Reach out today to talk to one of our experts, or check out some of our testimonials to learn more about how our team can help prepare your home for winter.