One of the best investments you can make in your home is installing new quality siding. It can boost your curb appeal, make your home more energy-efficient, and provide a high ROI. With so many siding options available on the market, it can be challenging to decide on the right one for your home. To make it a little easier on you, Blue Springs Siding and Windows decided to make a guide to outline the best options for Kansas City area siding.
The Blue Springs Siding and Windows Seal of Approval
With temperatures reaching well above 80℃ and falling below freezing, Kansas City area homeowners need siding that will stand up against the elements. That's why Blue Springs Siding and Windows exclusively installs James Hardie Siding and Prodigy Vinyl Siding by Alside. Both are known to be durable, trustworthy siding options with unique benefits. They'll protect against strong winds, hail, blizzards, and high humidity.
James Hardie Siding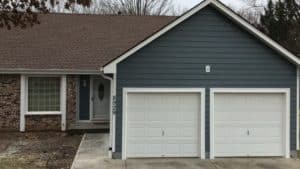 James Hardie Siding is a fiber cement siding, meaning it is a mixture of cement, sand, water, cellulose fibers, and James Hardie specific additives. It's often chosen for its durability, design options, and high Return on Investment. According to the 2021 Cost vs. Value Report, fiber cement siding offers homeowners a 69.4% ROI, making it an excellent choice for Kansas City area residents.
Fiber Cement Siding: HZ5® Zone
Hardie Siding understands that siding is not a one-size-fits-all product. That is why they design their siding options around different climate zones. The HZ5® Zone is designed for areas that reach below zero and have extreme temperature changes. This makes it an excellent option for Kansas City Area homeowners.
It's formulated with the highest quality raw materials to reduce moisture intrusions. This helps prevent mold growth, shrinking, swelling, and cracking. The HZ5® Zone is also flame resistant and pest resistant, so you won't need to worry about costly maintenance.
Unique Designs for Every Taste
The word concrete may bring up images of sidewalks or patios, functional but not necessarily beautiful. With James Hardie, that couldn't be further from the truth. What's unique about this type of concrete siding is that it comes in a wide variety of colors and styles. This flexibility allows you to pick the perfect, customized design. Choose from plank, shingle, vertical, fascia, trim, and soffit siding options without the added cost maintenance "traditional" options like stone, stucco, or wood sidings.
James Hardie Siding uses their patented ColorPlus® Technology to bake colors into the product, ensuring beautiful chip-resistant siding. It also blocks UV rays helping it resist fading. You know that the color you get on install day is the color you'll have 30 years down the road.
Alside Siding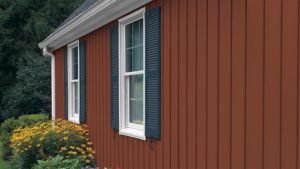 Prodigy Siding by Alside is made out of vinyl sheeting that wraps around the home to create a tight seal. This type of siding is often chosen for its energy efficiency as well as its Return on Investment. According to the 2021 Cost vs. Value Report, vinyl siding offers homeowners a 68.3% ROI.
Vinyl Siding and Energy Efficiency
Prodigy vinyl siding by Alside has one of the most energy-efficient designs out there. It features the thickest EPS foam insulation on the market – up to 1 ½" thickness – which provides an R-value performance for exceptional thermal performance. This means that Prodigy siding is resistant to heat flow, keeping the heat inside and the cold outside. Overall, heating and cooling systems will need to work less to regulate the home's temperature, which improves energy efficiency and lowers energy costs year-round.
The thickness of the foam insulation also helps reduce noise pollution, making the home a quiet, tranquil space.
Beautiful Options
This beautiful siding is designed to capture the look of traditional plank siding, so it's an attractive option for homeowners who prefer a classic home style. Forget nailing and caulking; Prodigy by Alside's innovative interlocking design creates clean corners, straight lines and increases the siding's overall strength and durability. Enjoy an extensive selection of fade-resistant colors, accessories, and trim for a completely personalized home exterior that stands up against the rain.
Fiber-Cement Siding vs. Vinyl Siding
Both James Hardie Siding and Prodigy vinyl siding by Alside are winning options for Kansas City Area homeowners. Both are similar in their strength and design, with several minor differences; the first being ROI. With only a 1.1% difference, James Hardie Siding wins out. The other key difference is James Hardie is a bit more weather resistant but provides less heat retention than Prodigy by Alside.
The best way to choose between the two is by requesting a free estimate with Blue Springs Siding and Windows. They would love to walk you through the process to help determine the best for you and your family. Siding can be installed year-round, so no need to rush on making a decision. We're confident that you'll be happy with the design, energy efficiency, and durability no matter which you choose.
Get Your Free Estimate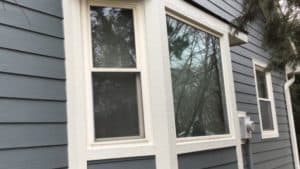 For beautiful exterior siding that lasts, Blue Springs Siding and Windows is your preferred James Hardie siding dealer and Alside's #1 Kansas City siding contractor. Call Blue Springs Siding and Windows at 816-228-5225 or on our contact page today. We can't wait to talk about your siding options and layout an installation timeline that fits your schedule.