Looking to increase the value of your home? Perhaps ready to take on that next DIY project? When it comes to deciding which home improvement project to take on, there are a few different factors to consider. So to help, here's our list of the home improvement projects with the best ROI (return on investment). These options will all strengthen your home's curb appeal as well as raise your home's resale value.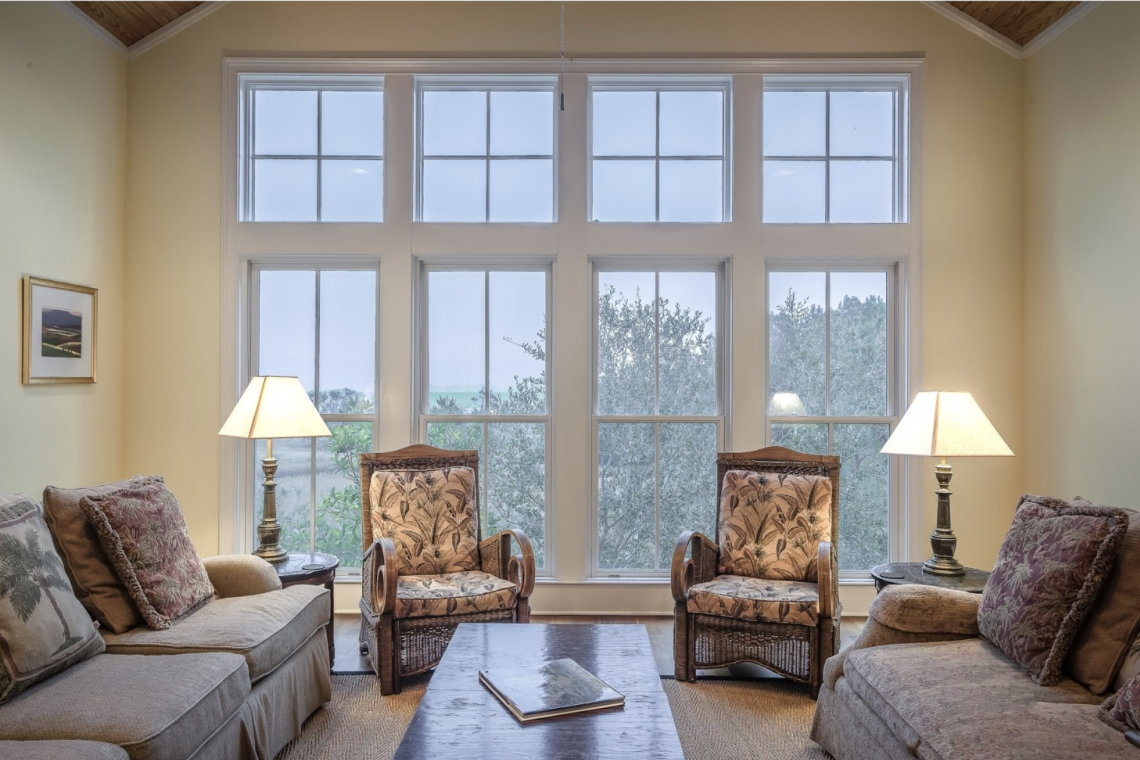 Window Replacement
For a homeowner looking to improve their home's value, window replacement is a good place to start. The average ROI for window replacement has risen every year for the past five years and now sits at approximately 70%. That is a solid return for any homeowner to begin with, however new windows also come with a range of additional benefits. The average window replacement process can take as little as just a few days and can add an immediate external design upgrade, noticeable from any exterior view of the home. Furthermore, new, well-insulated windows can substantially contribute to lowering your home's heating and cooling bills. According to the U.S. Department of Energy, a homeowner can save upwards of $465 a year on energy bills by simply replacing single-pane windows with double pane windows. Depending upon the existing level of insulation from your current windows, your return rate could be even higher.
Not only does installing new windows consistently rank as a top-10 home improvement project and save homeowners money on energy bills, but it also carries additional positives such as improved home security, more external light, swing/slide open and close functionality, and even impact protection. The admission of more external light can reduce your need for lights to be on in the house and create an open and inviting environment, while custom design can be an underrated bonus when it comes time to sell. Meanwhile, having Impact Windows that are tight, secure, and professionally installed can ultimately make it harder to break in and reduce the chances of window shatter.
If you think replacing your windows might be your next home improvement project, check out this list of 5 Window Replacement Styles that could work for your home:
Double-Hung Windows
Double-hung windows can open from either the top or bottom and are often incorporated in areas where you would open a window to let a breeze come in. (Think kitchen, living space, or bedroom.) They typically carry about a palatable price tag and are one of the most common window replacement choices in the country.
Vinyl Windows
Vinyl Windows are some of the most commonly used windows in the nation as well and carry a 77.5% ROI with them. The average cost for new vinyl windows is budget friendly, and they can last upwards of 30 years, making them an affordable, high-return choice for new window replacements.
Picture Windows
These windows are named for a good reason. They are large, singular pieces of stationary glass that are designed to let the maximum amount of light into your home, while simultaneously providing a great view. They are a nice addition to any living space and typically are priced according to how much glass they have and what type of glass they incorporate.
Slider Windows
Slider Windows do just that; they slide. Both windows sit on a gliding track, while one of the windows has the ability to slide past the other. Slider windows are a nice touch for a potential home buyer, as they add a sense of personalization while working to maximize space.
Stationary Windows
Seeing as these windows do not open, they are more for design and insulation than actual functionality. They can be formed or shaped to fit just about any angle or size you are looking for, and work to match the aesthetic consistency of your home. Not to mention, they can come with an affordable price tag.
Install New Siding
One of the best things about installing new siding is that you see the results clearly and quickly. To determine whether it is time to have new siding installed, look for a few key indicators. Siding can be significantly impacted by factors such as age, weather, and dry rot. Cracking, faded paint, or even small chips in the siding, could be an indicator that your siding is starting to wear. Not only do these factors lower the overall value of a home's curb-side appeal, but they can also result in water seepage, and even higher energy bills, as ventilation becomes more compromised. Speaking of high energy bills, if you have noticed a substantial raise in your energy bills, that could be another sign that it is time to replace your siding. This is especially true in the colder months when heat tends to escape from insulated walls between studs.
There are a few different types of siding, and a few factors to consider before purchasing. The first, naturally, would be budget. The average cost for new siding is typically priced according to how many square feet your project requires. The cheapest material, for reference, would be fiber cement, which can cost only a few dollars per square foot, while the most expensive is stone. Siding can be built using wood, stucco, brick, vinyl, and even steel. Whatever type of material you use to replace your siding, you will most likely have to pay an installation company to install it, which can also affect the final cost of the project as well. But while material used and the number of square feet needed to cover your home can ultimately impact the overall installation timeline, you can likely expect your new siding to be installed in just under a few weeks.
Homeowners looking to replace their siding would be happy to hear that the average siding project results in a minimum ROI of 60%, offsetting some of the cost of the project while simultaneously raising property value. The number one ranking ROI material for the new siding is Stone Veneer Siding, which averages an astounding 95% return rate! However, this is also an expensive option. The same can be said for Brick Veneer; expensive but brings with it a 90% ROI. For a more budget-friendly option, check out Vinyl Siding, which is the most common option for the average homeowner, representing over ⅓ of the completed siding projects in the nation. Vinyl Siding also holds a return rate of over 80%, making it a great option for a homeowner looking to minimize project cost. Another relatively inexpensive option is, as we established, fiber cement siding, which holds an ROI of over 75%. Regardless of which material you choose to go with, replacing your siding ultimately provides an immediate exterior makeover, improved insulation, and solid ROI for the homeowner.
Install New Doors
Another great project for a homeowner looking to increase home value is installing new doors. A lot like siding and windows, doors are a focal point for the exterior design and curb appeal of a home. They are used every day and become a major selling point for potential home buyers down the line. New doors include a range of benefits such as improved insulation, the allowance for more or less exterior light, and improved home security. Steel Entry Doors, for example, grade well for security, and average over a 102% ROI at point of re-sale.
Another relative factor in evaluating a homeowner's ROI is time spent. Today, more than ever, we are working hard for our paychecks, putting our families first, and struggling to draw the line between work and home life. That is why time spent can now be considered one of a homeowner's most valuable assets. Luckily, the door installation process is fairly painless, especially for a professional installation team like Blue Springs, and can take only a few hours to finish. Moreover, for a homeowner looking to cut costs even further, doors are one of the rare home improvement projects with a high ROI that can still be completed by a homeowner themself. Though we recommend utilizing an experienced installation team for the best results.
Whether or not you install the door yourself, the average cost of a new exterior door is ultimately offset by an average ROI of approximately 75%. For a project that costs less than most major home renovations, takes only a few hours to complete, and can even be installed by a homeowner, this is a very solid return. While Steel Entry Doors lead the way in terms of ROI, other options such as fiberglass, wood-clad, and even aluminum doors all garner average an ROI of over 70%. This means that no matter your budget or style, replacing an exterior door is a valuable investment. Now throw in the dollars saved every month on energy bills, and the doors begin to pay for themselves.
Local Home Improvement Experts
As homeowners, we understand how much pride and work goes into maintaining and improving your home. That is why we strive to offer the best window, door, and siding replacement products in the Kansas City Area. We strive to maintain and combine unbeatable prices, with experienced, and efficient installation teams. Because we, like you, pride ourselves on being homeowners. Reach out today to talk to one of our experts, or check out some of our testimonials to learn more.